eXo Chat 0.7 has been released and with it, tons of new features and improvements. As we're now using eXo Chat in production, most of the latest features were added due to feedback and requests. However, eXo Chat is an ongoing application, and you can still help us to improve it. If you're interested in real-time collaboration on your intranet, take a look at our post and answer our 5-min survey.
Now let's see what's new in eXo Chat since version 0.6 (released last March).
What's new?
Here is a list of the major new features available today:
Video conferencing and screen sharing via Weemo integration
New eXo Platform 4 design
Notifications improvements (sounds, unread number of messages in the page's title, notifications in filters)
Ability to quote, edit, and delete messages
Responsive view (iPhone size, iPad sizing, full desktop, and retina displays)
New emoticons
Ability to order rooms by last update
Here is an overview for some of these features: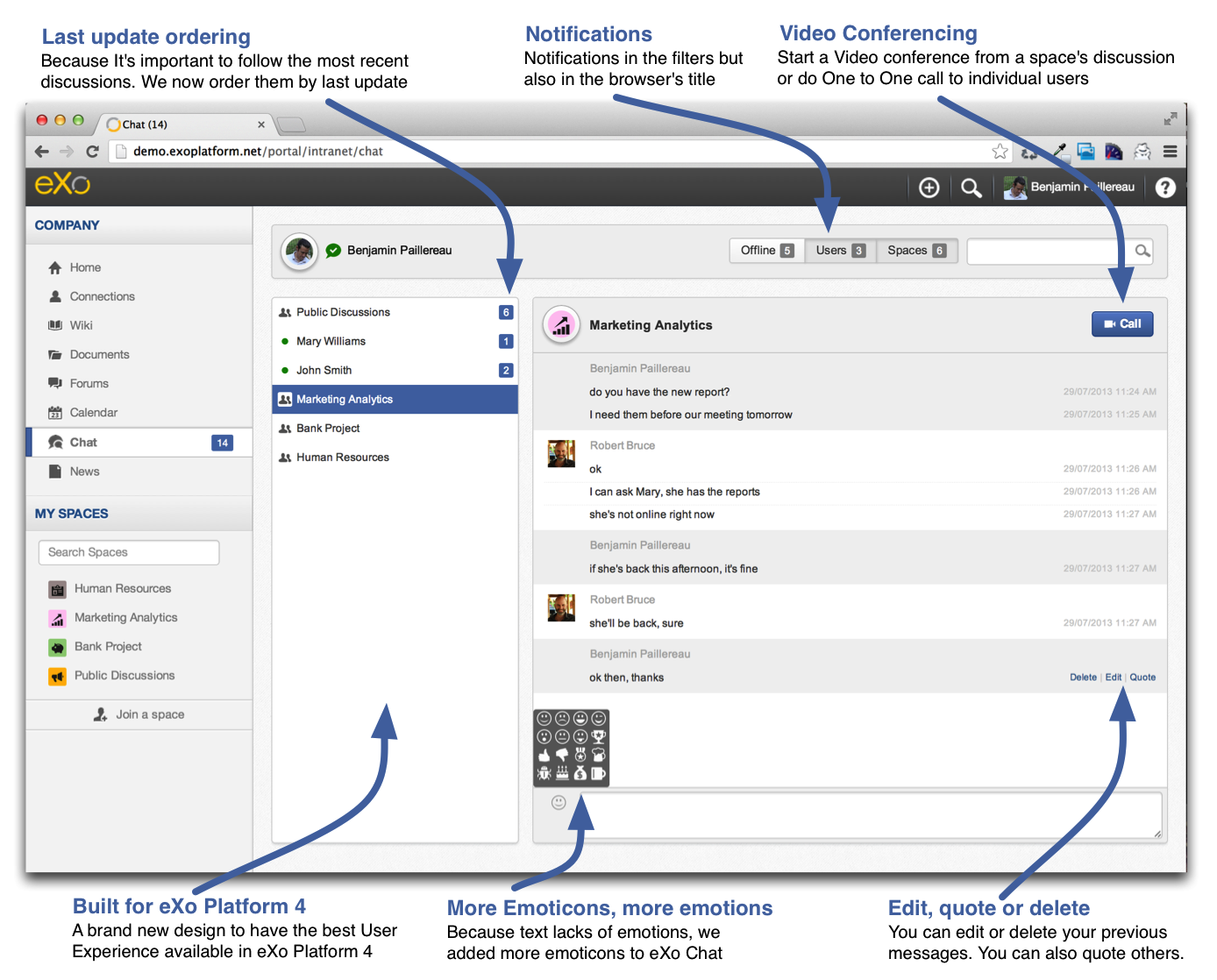 Some of the features may look confusing, but more details are available below.
Some more technical features will be also explained in another post next week:
Embedded MongoDB for demo purposes and unit testing
Various optimizations, including CSS sprites
Export command
System messages (used in Weemo)
Unit tests with EmbedMongo
Performance improvements
Video conferencing
This one actually deserves its own blog post; look for one in the upcoming weeks. Until then, here is a summary on eXo Chat integration of Weemo technology (http://www.weemo.com).
As already mentioned, you can either make one-to-one calls or host conference calls. When you start a call, eXo Chat adds a system message to inform users a call is started, allowing them to join the conference. They will also by notified by the new Sound notification.
Finally, when the call is over, eXo Chat automatically stores a system message, directly in the discussion, that gives the total time of the call.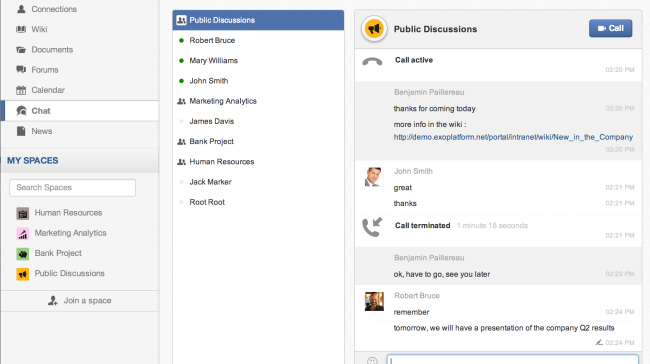 Quote, edit, or delete
You can quote any message and see a nice Quote view.

You can see a small "edit" icon on the right of a message if it has been quoted, edited, or removed. If it has been removed, we show a generic message to inform the user this message doesn't exist anymore.
As you can see, we want to provide desktop-wise features in the web app manner.
Filters and notifications
eXo Chat always makes sure you know what needs your attention. Notifications have been redesigned so that you know if they come from a space, from an online user, or an offline user. This will reflect in your filters so you don't miss them. You still have a total for each "room" and a grand total in the eXo intranet applications menu on the left (see upper screenshot for example). Do you often leave eXo Chat in the background and work in another window? Don't worry! You will be notified by a non-intrusive sound when you receive updates.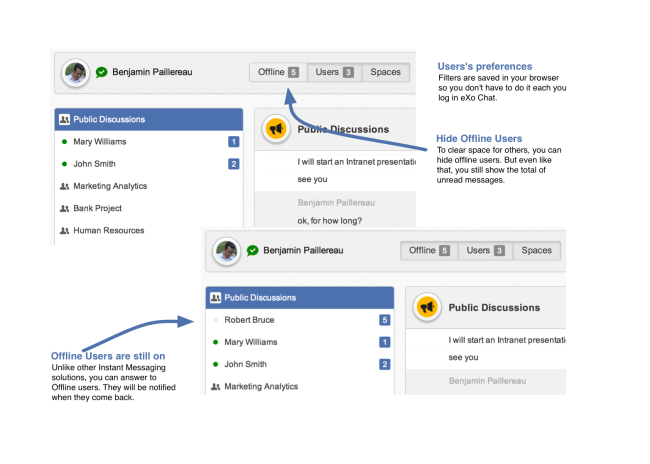 What's next?
Use it, spread it, it's the only way to improve it!
We're eager to receive your feedback in the survey and look at some of the crazy ideas you might have.
Thanks for reading. See you in a few days for a more technically oriented post about all the technological improvements. If you can't wait to test it, version 0.7.1 has been released very recently, and you can find it on the eXo add-ons report (https://github.com/exo-addons/chat-application).
"Thanks for watching and stay tuned; more things are coming, Benjamin."