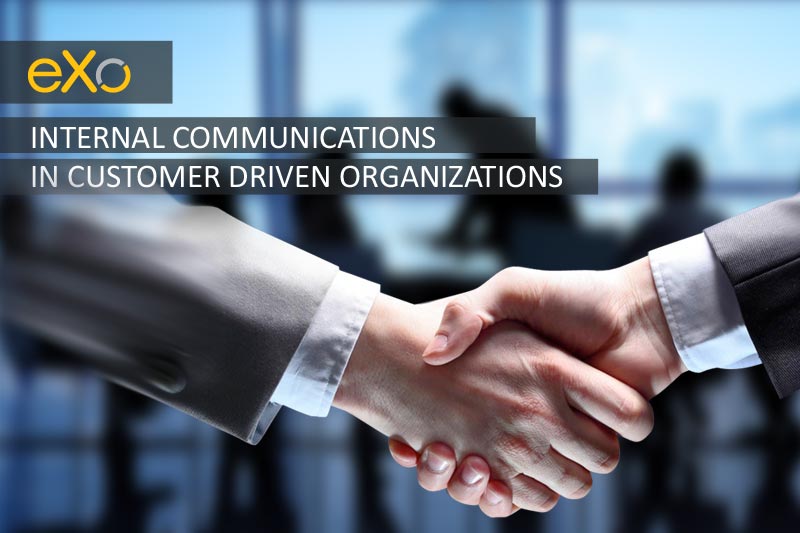 Customer satisfaction translates into bigger revenues. Almost every company out there claims that it is at its customers' service, at all levels. Almost every company counts a number of customer something teams – customer service, customer satisfaction, customer relationship, customer community management… But what does it mean to be truly customer driven? How does an organization achieve this?
Communications – it is all about money
Towers Watson's yearly survey on the impact of internal communications has consistently pointed out the close correlation between internal communications and financial performance:
"Companies that are highly effective communicators had 47% higher total returns to shareholders over the last five years compared with firms that are the least effective communicators."
A number of studies document the relationship between employee engagement and client satisfaction. A clear correlation has been measured in the retail industry, for example.
In 2012, the Journal of Occupational and Organizational Psychology published a study that shows more than a correlation but a cause-and-effect relationship between employee engagement and business unit performance, expressed via financial and customer service indicators.
Employee communications drive employee engagement
Despite what is decided in the management ivory tower, employees are on the front line, interacting with customers. They are the face and the voice of the company. There is no command and control possible over what each individual employee says or does in the field. And that is why company culture and internal communications are so critical – they align individual jobs to the company goals, transmit the company values and message, and engage and motivate the employees.
Customer-driven DNA – a bigger challenge for internal communications
A killer salesforce and an awesome customer support team are the first step, but there is much more to a true customer-driven organization than an engaged front line. A customer-driven organization derives all its decisions from customer feedback and for customer satisfaction. Customer care becomes everybody's business and unique concern, from the front line to the very last back-office employee.
How can you ensure innovation is driven by customer needs and requests rather than by the internal agenda? How can you ensure the client-driven points receive the highest priority in product creation? How can you make Financial Management and Planning allocate resources to the customer-driven business initiatives? Why should Sales follow the buyer buying cycle rather than pushing the buyer through their selling cycle? Which strategic direction is the right one in the light of your customer's success?
The answers are all by ensuring information flows freely from customer-facing employees to the other parts of the organization, across business units, geographies and hierarchies. It sounds simple on paper, but it is a tremendous challenge in practice, demanding a true transformation of your company's internal culture. Transforming organizations to the core is the challenge that internal communications are facing today.
How can internal communications drive customer satisfaction?
Make sure the company values and goals are communicated to employees.
Make sure each employee understands their role in achieving the company goals.
Ensure information flows from the top down, from the bottom up and across functions and geographies.
Put in place proactive knowledge-sharing, creating a climate where knowledge-sharing is promoted and encouraged.
Leverage technology: an efficient intranet boosts internal communications, knowledge management and collaboration.
A lot of organizations think they are customer driven but very few are. Therefore, your company can gain a strong competitive edge through effective internal communications and by using the right technology tools.