This post is part of a series of articles that will introduce some noteworthy improvements to eXo Platform 4.4. Watch this blog for more product news in the upcoming weeks.
Activity streams are a central place to receive updates about your coworkers. At peak hours, the streams tend to become quite busy. So busy, that it can be hard to find out where things are coming from.
Because information is meaningless without context, we've made a tiny improvement that should help you to find the space in which an activity happens.
We now indicate the space for an activity beside the user name and the space avatar on the timeline.


Moving your mouse over the space name or avatar will reveal a popover with quick actions and info about the space.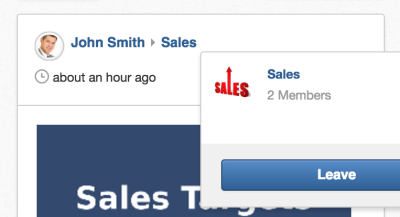 With this simple change, you can easily scan the full stream at a glance and get a sense of who's doing what where.
Hopefully, this should help you to decide which activities you want to dig into on busy days.
Tell us what you think
As usual, these improvements can be previewed immediately on the Tribe and in the latest milestone of eXo Platform 4.4 Community Edition. Let us know what you think—we'd love to hear your feedback.
Other articles in the series:
– Platform 4.4 Sneak Peek: Improved Document Activities
– Platform 4.4 Sneak Peek: Member Lists in Chat Rooms
– Platform 4.4 Sneak Peek: Improved Document Search results
– Platform 4.4 Sneak Peek: Invite People to Your Spaces More Easily
– Platform 4.4 Sneak Peek: Space Avatars on Activity Streams
– Platform 4.4 Sneak Peek: Opening Content in Context from Notifications
– Platform 4.4 Sneak Peek: Share Documents to Users
– Platform 4.4 Sneak Peek: Desktop Notifications for eXo Chat
– Platform 4.4 Sneak Peek: New Document Version History
– Platform 4.4 Sneak Peek: Text Formatting in Microblog and Comments