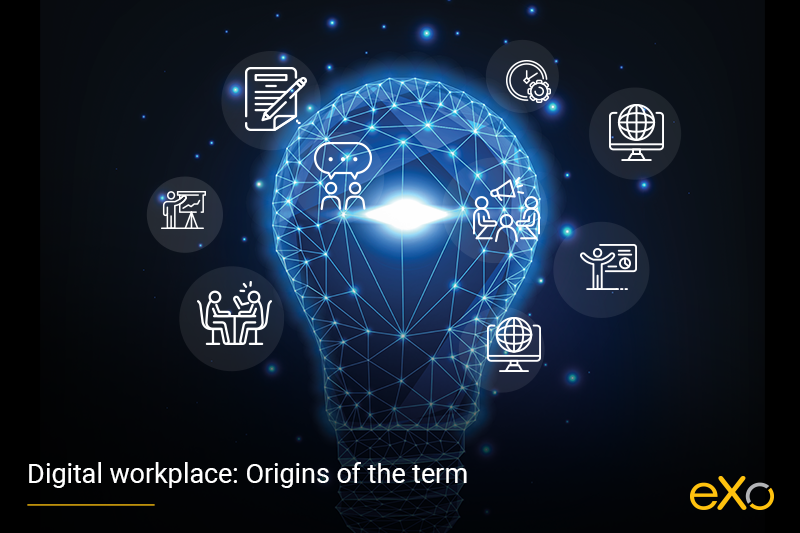 When I was preparing for my job interview with eXo a couple of years ago, one question was on my mind going into the room: what would I say if the interviewer asked me to define a digital workplace? Sure, I more or less had an idea about what a digital workplace was, but I still had to Google it to find out more. Well, that left me with more questions than answers since there wasn't a universal definition of the term. Is it an intranet? Is it a collection of different apps and tools in the workplace, or is it a change in organisational culture? As the confusion grew with each article I read, I decided to stick with a simple definition. A digital workplace is a next generation of intranet solutions or intranet 2.0 that is based on three pillars: communication, collaboration and information. In a way this definition is true but it doesn't cover the whole spectrum of the term.
In this blog post, I will try to dig deeper into the origins of the term 'digital workplace' and walk through various definitions I found on the Internet.
Let's start with the origins
A quick look at Google trends shows the increasing interest in digital workplace solutions over the last couple of years. The term has started to go mainstream thanks to publications and books by industry experts such as Paul Miller (CEO of Digital Workplace Group) and Jane Mcconnell (a digital expert and researcher).
Miller popularised the term through his book "digital workplace: How technology is liberating work" published in 2012. The book is based on the premise that the physical office will slowly be less central following innovations in technology such as mobile devices, telecommunications services, social media and more.
The digital workplace is defined in the first chapter as "the technology-enabled space where work happens – the virtual, digital equivalent of the physical workplace". Miller further explained that work shouldn't be about the 'where' anymore, rather than the 'how'. Employees nowadays have the tools to perform their jobs from any location and from any device (depending on the nature of the job of course) so they are not restricted to a physical location. This flexibility helps increase engagement and recruit better qualified individuals.
"If it's no longer where you work but how you work, then this shift brings control, influence, empowerment and autonomy, to each of us" ~ Paul Miller
Jane Mcconnell, in her quest to stress the importance of the intranet and make it more appealing to top management, led a research study for the "digital workplace trends report" previously known as "the intranet trends report" – you see the growing importance of the term already.
In a blog post published in 2009, Mcconnell led a brainstorming session with over 300 members from an intranet group she managed on LinkedIn to replace 'intranet' with a new term. The session resulted in a number of terms ranging from the obvious 'web office', 'online office' and 'web workplace' to the more sophisticated "company information, news and collaboration portal' and 'my collective and personal workplace'. Bizarrely enough, the list didn't contain the term 'digital workplace'. Instead, Mcconnell favoured 'web workplace' as it conveys the importance of providing solutions for on-site as well as remote and mobile teams and that the term is easily remembered and identifiable through its initials 'WW'. The digital workplace won the naming rights and became the de facto standard. However, in an article published earlier this year, Mcconnell stated that 'web workplace' – even though it is not in use today – is more comprehensive and accurate than 'digital workplace' and doesn't sound technical, which resonates well with HR and communication specialists.
Some definitions of the digital workplace
The digital workplace is used to mean different things by different people. As with any pithy concept, the Internet offers a number of definitions. Ephraim Freed from The Digital Workplace Group (DWG), wrote a comprehensive blog post on different definitions of digital workplace, counting at least eight of them. It is worth a read, especially if you are interested in the concept's evolution or the philosophical implications of it. Below are the definitions I found interesting:
An evolution of the intranet
In 2019, I wrote an article about the history of the intranet from the early years all the way up to … you guessed it … the digital workplace. Although, as I mentioned earlier, defining 'the digital workplace' as an evolution of the intranet is a bit limited, it is necessary to associate an emerging term with already established concepts so people can relate. This idea was the foundation of the concentric eggs diagram of the digital workplace by DWG. The diagram has three layers.
Traditional intranet: an internal website used mainly for internal communications where employees can access corporate news, policies and announcements.
Tools linked to an intranet: an intranet that provides direct access to other platforms and tools used in the workplace such as HR systems, collaboration tools etc.
Digital workplace: holistic user-centered solutions used within an organisation to get work done. They encompass a set of applications, tools and platforms to streamline communication, foster collaboration and facilitate access to information.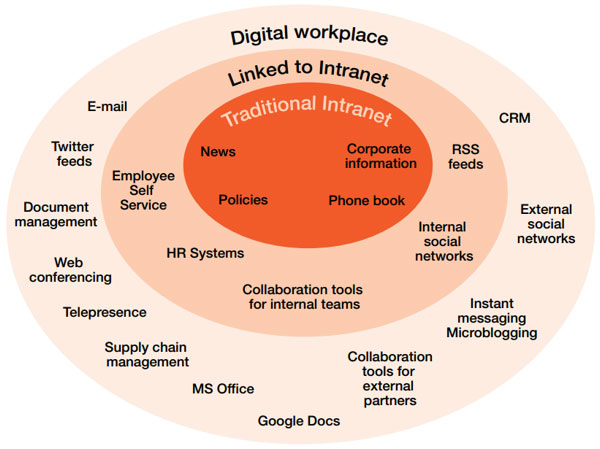 Created nearly 10 years ago, the diagram is a bit outdated since it is overly centered around technology rather than people and the employee experience. However, its close ties to already established terms like the intranet make it comprehensive and to the point.
A user centric digital experience:
With early definitions of the term, the digital workplace was portrayed as an ecosystem and environment of the different tools people use in the workplace. This was the case with Gartner's definition, initially communicated in 2014: "an ongoing, deliberate approach to delivering a more consumer-like computing environment that is better able to facilitate innovative and flexible working practices". Nothing is wrong with this definition. However, if you take a look at Gartner's glossary, you will find a slightly different one: "The Digital Workplace enables new, more effective ways of working; raises employee engagement and agility; and exploits consumer-oriented styles and technologies." The key terms added, such as employee engagement, agility and consumer-orientated show the shift towards making the digital workplace more tailored to employees' needs and more appealing to non-technical staff and decision makers.
Our take
This is the definition we like best, as it is the easiest to understand: the digital workplace is the virtual, digital equivalent of the physical workplace. It is a holistic user-centered solution used to connect, engage, and empower employees. Through an employee-centered hub, it encompasses a set of tools, applications, and platforms for a complete work experience.