What Is Digital Collaboration?
Similar to many other companies, your employees might be trapped in silos, separated by department, geography, or their use of different tools.

When they are disconnected, your employees might be misaligned, disengaged, and less able to collaborate, get things done, share knowledge, and combine their ideas with others. This negatively impacts your organization's ability to innovate and reach your performance goals.

Digital collaboration transforms your company into a unified successful business force by connecting your people, information, digital tools, and company communications in one convenient place.

The technologies available today have already started to change the way companies work and organize themselves. Work is becoming modular and skills more accessible.
Rashad Kurbanov
CEO of Almarelo
How Is Digital Collaboration Different from Other Communication Tools?
1990s: Traditional intranets go unused
Traditional intranet and extranet portals focus on sharing static content with employees and customers.

Unfortunately, these do nothing to connect and engage your communities or to help teams work together, share knowledge and interact.
2000s: New tools, new silos, and tool overload
Enterprise social networks (ESNs), project management, and team communication tools introduced new collaboration methods into the enterprise.

Great for small teams, they failed to deliver on the company-wide scale however, while the multiplicity of tools, created new information silos and new problems.
2010s: Digital collaboration
Today's digital collaboration software programs package all the innovative capabilities from the 2000s into one platform, closely integrated with your business applications.

The resulting digital workplace leads to engaged, productive employees and an innovative, enduring company culture.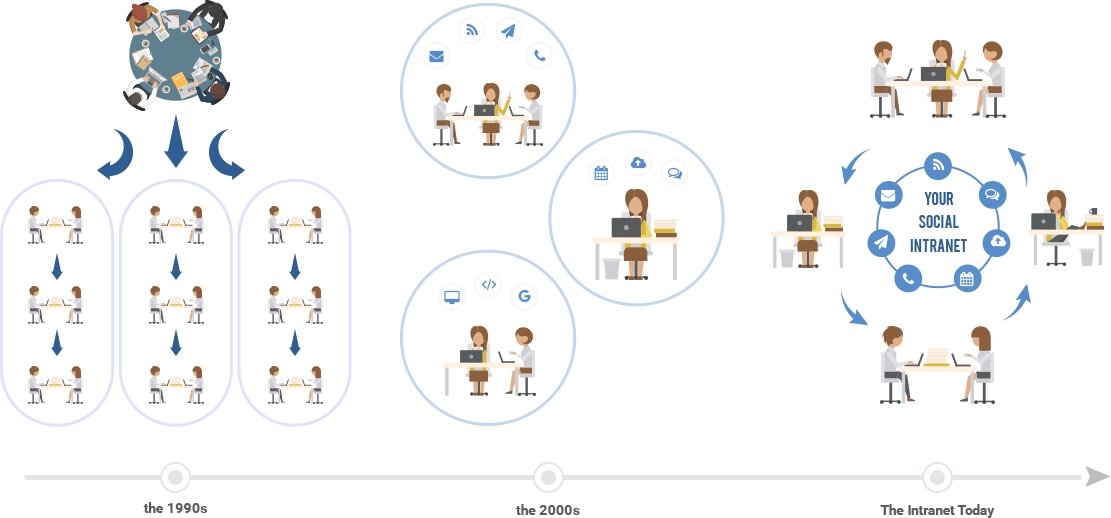 Benefits for Companies that Use Digital Collaboration
Productive workforce
Employees get a digital workplace in which they can find information and knowledge quickly and get things done efficiently.
Engaged employees
Employee engagement increases through closer collaborative interactions, social connections, and more efficient company communications.
Efficient company communications
Leverage traditional content displays and two-way social communication channels to get your message heard.
Successful cross-team projects
Cross-functional initiatives can get up and successfully running in minutes, wherever contributors are.
High-impact Innovation
As your collaborative, open culture becomes the norm, you can unleash your organization's innovation potential.
Strong partner and customer community
Invite your partners, customers, and community to engage and collaborate with you.
See How Other Executives Have Reshaped Their Organizations with Digital Collaboration Solutions
Customer surveys, eXo, and other industry vendors
Harvard Business Review. "The impact of employee engagement on performance", Gallup study Employee engagement and growth
ESCI (engaged company stock index) performance, "Giving everyone the chance to shine," Hay Group, 2010