Transform your customer experience through collaboration
Due to financial product technicity on the one hand and compliance issues on the other, banks and insurance companies naturally function in silos to an extreme degree. At the same time, customers increasingly desire a one-stop shop for financial services, and they expect customer representatives to deliver those services.

Digital collaboration enhances cross-selling opportunities while increasing customer loyalty through consistently high-quality service.

With eXo, we have centralized our client information base. Agents now use a single-access point that unifies capabilities previously provided via five different applications.
Grégory Dussart
Project manager, Humanis
Engage Your Employees and Satisfy Your Customers
Boost employee productivity and engagement
Empower employees through a digital workplace with a single access point to key tools, company knowledge and information, product catalogues, business processes, and expert colleagues.
Quickly push critical news out to ensure that agents are updated regarding regulation changes and their impacts.
Provide integrated customer service and seize cross-selling opportunities
Quickly crowdsource solutions throughout the organization for quick problem solving.
Collaborate on cross-departmental projects via private secured spaces equipped with state-of-the-art collaboration and communication tools.
Empower your customers and build loyalty
Enable two-way communication between your customers and your customer representatives through a customer experience portal. Provide customers with single-point access to key tools, actions, and information, transforming the customer digital experience.
Attract new customers
Provide an integrated digital experience throughout the prospect journey, from front-end dynamic content through sales representative communications and direct sign-ups.
Ensure scalability and security
Ensure that your platform can handle important traffic surges and that it complies with your security guidelines via a proven open standard-based solution.
Improve your digital experience by leveraging your existing tools
Federate your existing business tools in a unique platform, complementing them with out-of-the box communication and collaboration capabilities.
Banks and Insurance Companies Use eXo Every Day
We help banks and insurance companies leverage collaboration synergies to seize cross-selling opportunities, attract new customers, and boost client satisfaction.
How to succeed with your Intranet project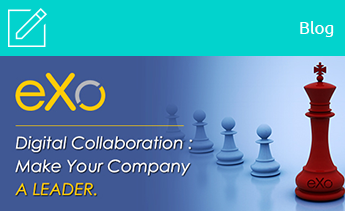 Digital Transformation: Make Your Company a Leader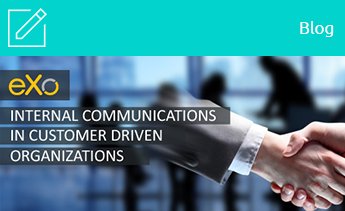 The Impact of an Effective Internal Communication