Your collaboration project cannot become a success without some thoughtful integration with your company's key IT systems and tools. As 80 percent of all applications deployed in an average enterprise are built in-house, pre-built connectors to external solutions are never enough.

That is why in eXo Platform, we chose to base our solutions on open source code and open standards, so we can smoothly integrate with your existing IT infrastructure, legacy systems, and tools.
Open source and open standards
eXo Platform is open source and attempts to protect you from proprietary vendor lock in, by adopting public interoperability standards wherever possible. Public specifications and standards are developed and promoted by industry standardization bodies such as IETF and W3C to provide a common ground for integrating software.

eXo has bet on numerous open standards such as Java EE, portlets, OpenSocial, CMIS, WebDAV, iCal and LDAP – to name just a few – in order to be compatible with a wide range of middleware and business applications that are commonly found in enterprise IT infrastructure.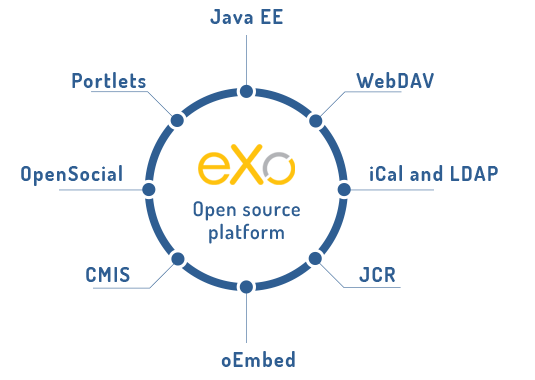 Extend with pre-built connectors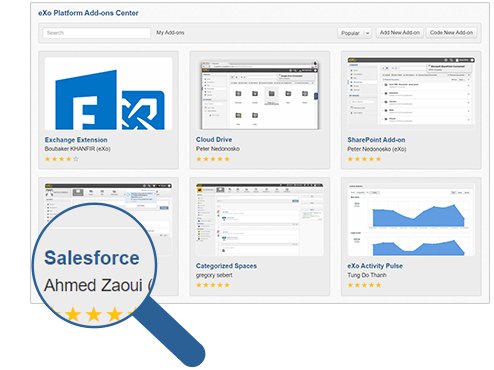 eXo Platform comes with many pre-built features for interactive collaboration. But it can be extended with various add-ons that bring new features and applications to a user experience tailored to the needs of your teams.

Because your people are probably already using different tools and services, we have built several software integrations for major enterprise software solutions from vendors like Google, Microsoft, and Salesforce. These third-party connectors allow your teams to keep using their most critical tools while making synchronizations and notifications of activities available in eXo Platform for a full digital experience.
You can find all our connectors and complimentary applications in our add-on center, available on eXo Tribe
Custom integrations
eXo Platform comes with extensive APIs and various documented extension points. That way, your developers can implement any custom integration that will make effective collaboration among your people and your existing business processes possible.

Finally, eXo Platform preserves your IT investments by supporting an extensive array of environments such as databases, operating systems, enterprise directories, and single sign on solutions. A full list of supported environments can be found here.