Everything You Need in One Collaboration Software
eXo Platform is all-in-one collaboration software that provides collaboration, knowledge management, content and document management, project management, social engagement, and portal capabilities integrated in one platform.
Collaboration

Collaboration spaces

Facilitate cross-functional projects with secure private fully featured collaboration spaces.

Document storage and collaboration

Organize, store, share, and collaborate around your documents.

Project management

Manage your project better using task management, shared calendars, team activity streams, and more.

Engagement

Content management

Leverage content templates and publication lifecycles to create and publish engaging content in minutes.

Social network

Connect and interact with other members and follow relevant activities easily.

Activity streams

Keep everyone updated regarding their projects, assignments, or company news.

Productivity

Single access point

Provide all business applications, documents, information, and contacts in one place.

Knowledge management

Capture, centralize, and share your company knowledge with documents, wikis, forums, and more.

Mobile

Work and collaborate remotely with any device.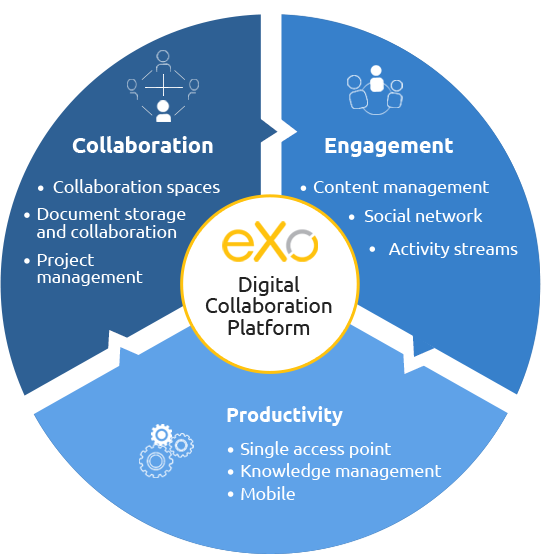 One Software to Build Your Target Solutions
Enhance Your Solution by Integrating eXo Platform into Your Environment and Business Tools
Open-standards based
Easy integration
Integrate seamlessly into your IT environment and existing applications.
Applications hub
Federate your business tools through a modern, user-centered front end.
Extensible platform
Extensible and customizable
Easily change your branding, layout, and user experience. Build and deploy your own applications through multiple extension points.
Mobile ready and responsive
This complete native mobile app and responsive web layout respects your branding.
Enterprise ready
Secure and scalable
Battle-tested through deployments with hundreds of thousands of agents and millions of users in the most demanding environments, including defense agencies, governments, and banks.
Pre-built connectors and administration tools
Use tools for LDAP, single sign on, permissions management, staging, and more.
Reviews of Our Software
eXo collaboration software is a well designed platform that contains all the communication tools often available across distributed systems. It solves many communication issues with one tool. The system is easy to use.
/ Michelle
eXo is an excellent social intranet for our enterprise. It is a great solution for our communication needs, and it lets our team communicate and share information very easily.
/ Alberto
eXo Platform is a rich and powerful collaboration software. It meets all my collaboration and content needs in a single tool.
/ Michal
eXo collaboration software is fixing our broken email collaboration habits. It was a relief to have organized discussions and a single repository for our docs.
/ Jase
eXo Platform is much more than a simple intranet app. You can customize it very deeply.
/ Dinsip
Nice interface, functional and refreshing compared to other similar systems. Information is well organised via groups and projects. Worth a look!
/ Sumanth