Transform your organization through collaborative work
Get the most out of your collaboration
Our enterprise collaboration platform maximizes your collective power through a fully integrated stack of teamwork collaboration app and communication tools, as well as with strong integration with your internal environment
A digital workplace for a digital workforce
Unify your business and collaboration tools within one platform to connect your employees to information, people, and apps from one digital workplace.
Streamline company communications
Our social collaborative work platform facilitates information flows mixing traditional news displays with targeted two-way communication through social activity streams
Key Benefits of a Collaborative work Platform
Enable digital collaboration in any situation with a full stack of integrated enterprise collaboration tools
Thanks to a full stack of integrated tools, our project collaboration platform provides a secure and efficient environment for any type of collaboration – cross-functional, cross-geographical, remote teams, remote workers, intradepartmental ongoing collaboration, ad hoc projects, communities of interest – you name it.
Find and source relevant skills for your team with Profiles
Collaborate privately and securely on each project with Spaces
Share, view, edit and store documents in a secure online file system with Documents
Structure work information, meeting notes and department policies with Wikis
Distribute, manage and follow work items with Tasks
Coordinate your team timelines with Calendars
Stay on top of all your projects and work items with Notifications
Communicate with your team members and coworkers via Activity Streams and Chat app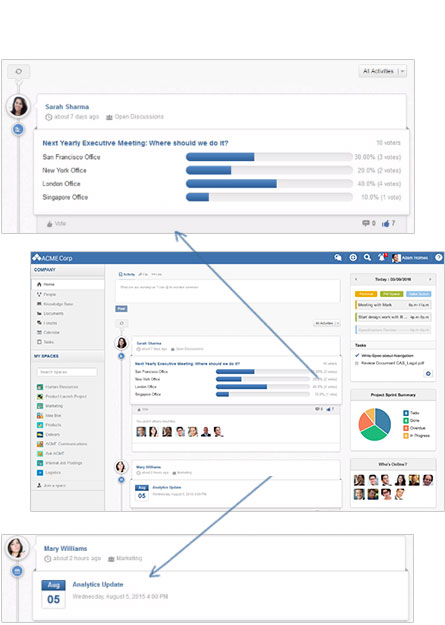 Unify your collaboration and communication set-up with Platform
Most modern workers use multiple software applications to get through their work day, the sheer number of which can be overwhelming and disruptive to their overall efficiency.
eXo Platform provides your employees with a unique point of access to all of their applications, personal information and company communications. Deeper integrations with Notifications, Activity Streams and Spaces are also possible for key apps, maximizing individual and global efficiency.
Thanks to our Platform's native integrated capabilities, some of your existing collaboration tools can be replaced, leading to an optimized cost of ownership.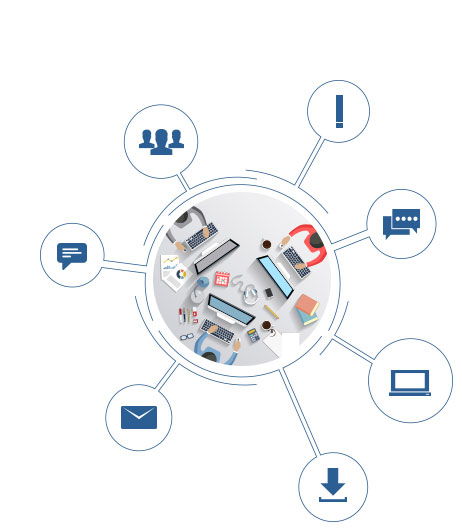 Modernize your communications with the intranet News and Activity Stream
Easily display your company news at the heart of your employees' digital workplace with News. Enhance traditional news sharing with two-way communication messages in Activity Stream. Engage your employees by initiating news inspired interactions. Break communication silos by allowing targeted interdepartmental information flows.