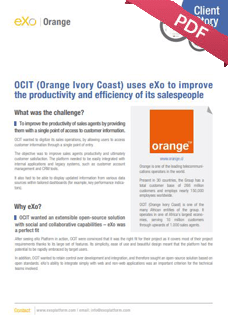 Orange Ivory Coast
Orange is one of the leading telecommunications operators in the world.
OCIT (Orange Ivory Coast) is one of the many African entities of the group. It operates in one of Africa's largest economies, serving 10 million customers through upwards of 1.000 sales agents.
OCIT wanted to digitize its sales operations, by allowing users to access customer information through a single point of entry.
OCIT (Orange Ivory Coast) uses eXo PLatform to improve the productivity of sales agents by providing them with a single point of access to customer information.