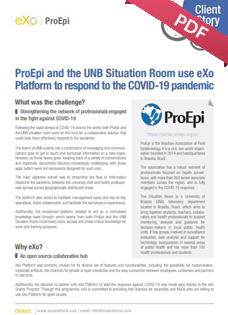 ProEpi
ProEpi is the Brazilian Association of Field Epidemiology. It is a civil, non-profit organisation founded in 2014 and headquartered in Brasilia, Brazil.
eXo Platform was primarily chosen for its diverse set of features and functionalities, including the possibility for customisation, corporate artifacts, the channels for private or open interaction and the easy connection between employees, customers and partners in real time.
Additionally, the decision to partner with eXo Platform to lead the response against COVID-19 was made easy thanks to the eXo Grants Program. Through this programme, eXo is committed to providing free licenses for nonprofits and NGOs who are willing to use eXo Platform for good causes.