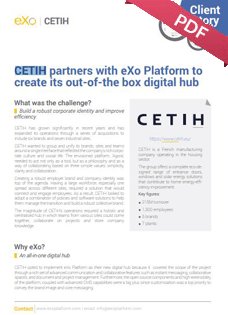 CETIH
CETIH is a French manufacturing company operating in the housing sector.
The group offers a complete eco-designed range of entrance doors, windows and solar energy solutions that contribute to home energy-efficiency improvement.
CETIH opted to implement eXo Platform as their new digital hub because it covered the scope of the project through a rich set of advanced communication and collaborative features such as instant messaging, collaborative spaces, and document and project management. Furthermore, the open source components and high extensibility of the platform, coupled with advanced CMS capabilities were a big plus since customisation was a top priority to convey the brand image and core messaging.