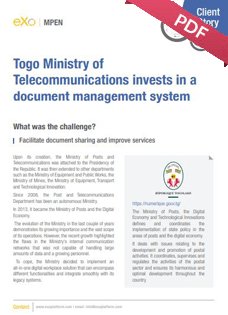 Togo Ministry of Telecommunications
The Ministry of Posts, the Digital Economy and Technological Innovations defines and coordinates the implementation of state policy in the areas of posts and the digital economy.
It deals with issues relating to the development and promotion of postal activities. It coordinates, supervises and regulates the activities of the postal sector and ensures its harmonious and optimal development throughout the country.
The Ministry decided to implement eXo Platform as its new digital workplace solution thanks to its open
standards, flexibility and ability to integrate with third-party applications and legacy systems.