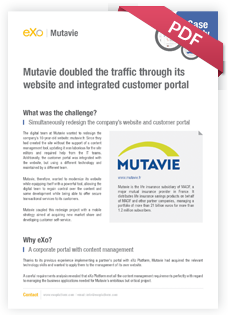 Mutavie
Mutavie doubled the traffic through its website and integrated customer portal
Mutavie is the life insurance subsidiary of MACIF, a major mutual insurance provider in France. It distributes life insurance savings products on behalf of MACIF and other partner companies, managing a portfolio of more than 21 billion euros for more than 1.2 million subscribers.
Mutavie wanted to modernize its website while equipping itself with a powerful tool, allowing the digital team to regain control over the content and some development while being able to offer secure transactional services to its customers.
Download the case study!