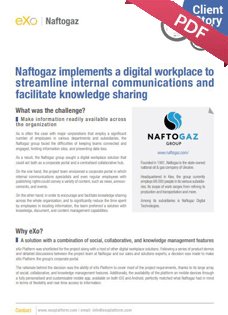 Naftogaz
Naftogaz is the state-owned national oil & gas company of Ukraine.
Headquartered in Kiev, the group currently employs 68.000 people in its various subsidiaries. Its scope of work ranges from refining to production and transportation and more.
Among its subsidiaries is Naftogaz Digital Technologies.
eXo Platform was shortlisted for the project along with a host of other digital workplace solutions. Following a series of product demos and detailed discussions between the project team at Naftogaz and our sales and solutions experts, a decision was made to make eXo Platform the group's corporate portal.