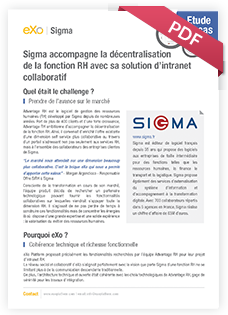 Sigma
Sigma supports the decentralization of the HR function with its collaborative intranet solution
Sigma has been a French software publisher for 35 years and offers software to mid-sized companies for functions such as human resources, finance, transport and logistics.
Sigma also offers outsourcing services for information systems and support for digital transformations. With 700 employees in five branches in France, Sigma has a turnover of 63M euros.
Find out more in the case study!