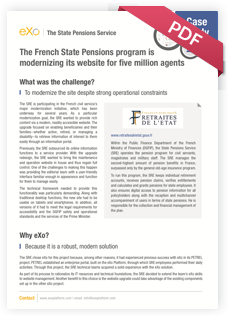 The State Pensions Service
The French State Pensions program is modernizing its website for five million agents
Within the Public Finance Department of the French Ministry of Finances (DGFIP), the State Pensions Service (SRE) operates the pension program for civil servants, magistrates and military staff.
The SRE manages the second-highest amount of pension benefits in France, surpassed only by the general old-age insurance program.
To run this program, the SRE keeps individual retirement accounts, receives pension claims, verifies entitlements and calculates and grants pensions for state employees.
It also ensures digital access to pension information for all policyholders along with the reception and multi-channel accompaniment of users in terms of state pensions. He is responsible for the collection and financial management of the plan.
Download the case study!