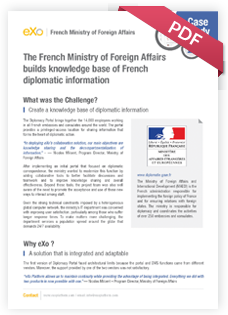 Ministry of Foreign Affairs
The French Ministry of Foreign Affairs builds knowledge base of French diplomatic information
The Ministry of Foreign Affairs and International Development (MAEDI) is the French administration responsible for implementing the foreign policy of France and for ensuring relations with foreign states.
The ministry is responsible for diplomacy and coordinates the activities of over 250 embassies and consulat.
Download the case study to find out how the ministry builds knowledge base of French diplomatic information.