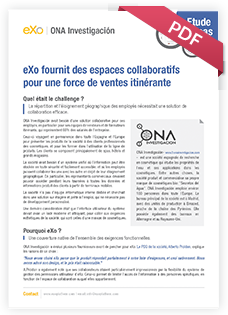 ONA Investigación
eXo successfully creates collaboration spaces for a traveling sales force
ONA Investigacion is a Spanish cosmetics research company that studies water properties and their application in cosmetics. Among other things, the company produces and commercializes its own brand of organic cosmetics: "Secretos del Agua".
ONA Investigacion employs around 100 people throughout Europe. The company's main office is in Madrid, with production facilities in Binaced, in the Pyrenees region. It also has rep offices in Germany and the UK.
Read more, download the case study!