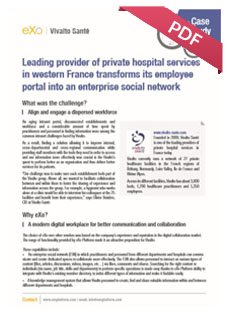 Vivalto Santé Case Study
Founded in 2009, Vivalto Santé is one of the leading providers of private hospital services in France today.
Vivalto currently runs a network of 27 private healthcare facilities in the French regions of Brittany, Normandy, Loire Valley, Ile de France and Rhône Alpes. Across its different facilities, Vivalto has about 3,800 beds, 1,700 healthcare practitioners and 5,350 employees.