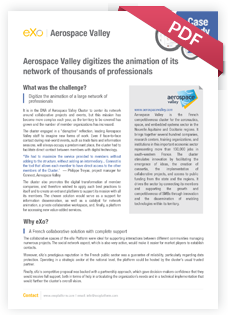 Aerospace Valley Case Study
Aerospace Valley is the French competitiveness cluster for the aeronautics, space, and embedded systems sector in the Nouvelle Aquitaine and Occitanie regions. It brings together several hundred companies, research centers, training organizations, and institutions in this important economic sector representing more than 130,000 jobs in south-western France.
The cluster stimulates innovation by facilitating the emergence of ideas, the creation of consortia, the implementation of collaborative projects, and access to public funding from the state and the regions. It drives the sector by connecting its members and supporting the growth and competitiveness of SMBs through innovation and the dissemination of enabling technologies within its territory.