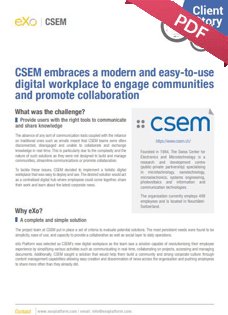 CSEM
CSEM embraces a modern and easy-to-use digital workplace to engage communities and promote collaboration.
The project team at CSEM put in place a set of criteria to evaluate potential solutions. The most persistent needs were found to be simplicity, ease of use, and capacity to provide a collaborative as well as social layer to daily operations.
eXo Platform was selected as CSEM's new digital workplace as the team saw a solution capable of revolutionising their employee experience by simplifying various activities such as communicating in real-time, collaborating on projects, accessing and managing documents.