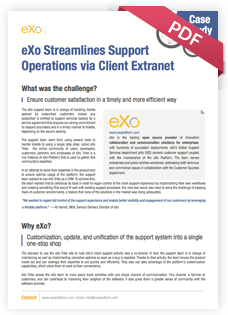 eXo Platform Streamlines Support Operations via Client Extranet
eXo is the leading open source provider of innovative collaboration and communication solutions for enterprises,
with hundreds of successful deployments.
eXo's Global Support Services department (eXo GSS) delivers customer support coupled with the maintenance of the eXo Platform.
The team serves enterprises and public entities worldwide, addressing both technical and commercial issues in collaboration with the Customer Success
department.