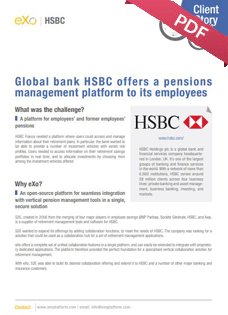 HSBC
HSBC France needed a platform where users could access and manage information about their retirement plans. In particular, the bank wanted to be able to provide a number of investment vehicles with varied risk profiles.
S2E, created in 2006 from the merging of four major players in employee savings (BNP Paribas, Société Générale, HSBC, and Axa), is a supplier of retirement management tools and software for HSBC.
With eXo, S2E was able to build its desired collaboration offering and extend it to HSBC and a number of other major banking and insurance customers.