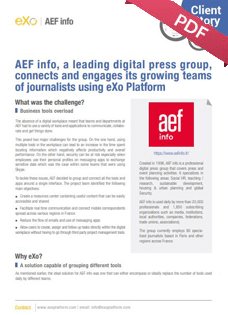 AEF
AEF info is a professional digital press group that covers press and event planning activities. It specializes in the following areas: Social HR, teaching / research, sustainable development, housing & urban planning and global
Security.
AEF info is used daily by more than 20,000 professionals and 1,850 subscribing organizations such as media, institutions, local authorities, companies, federations, trade unions, associations).
The group currently employs 80 specialized journalists based in Paris and other regions across France.
Following the evaluation period, eXo was chosen as AEF's new digital workplace. The decision was in part due to the capacity of the platform to effectively cover most of the project's requirements with its large array of features that include: social networking, document and project management, calendars, availability on mobile devices and more.