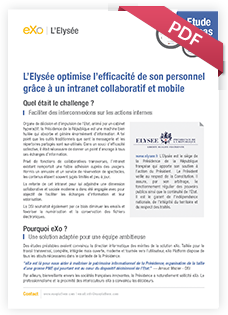 The Elysée Palace
French presidential residence optimizes staff efficiency through a collaborative and mobile intranet
The Elysée Palace is the heart of the Presidency of the French Republic. It supports and assists the President in the execution of his duties. This is why the residence wanted to build a collaborative intranet.
The redesign of the intranet to add a modern collaborative and social dimension has been initiated with the aim of facilitating the exchange and promotion of information.
Download the case study to see how the Elysée Palace builds the collaborative intranet.