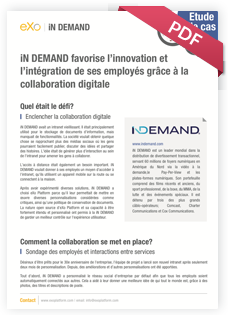 iN Demand
Digital collaboration fuels iN DEMAND's innovation and employee onboarding
iN DEMAND is a world leader in distributing transactional entertainment, reaching 60 million digital households across North America via Video On Demand, Pay-Per-View and digital platforms.
iN DEMAND had a homegrown intranet that had become outdated. It was mainly used for informational document storage, but was missing some functionalities.
The company wanted to get more of a social media-based intranet where people could easily post and discuss ideas and share stories. The idea was to generate more interaction within the intranet to get people to collaborate.
Download the case study!