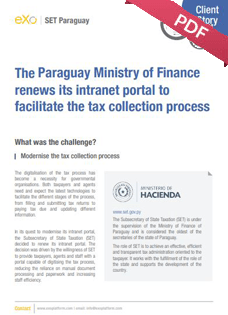 The Paraguay Ministry of Finance
The digitalisation of the tax process has become a necessity for governmental organisations. Both taxpayers and agents need and expect the latest technologies to facilitate the different stages of the process, from filling and submitting tax returns to paying tax due and updating different information. The Subsecretary of State Taxation (SET) is under the supervision of the Ministry of Finance of Paraguay and is considered the oldest of the secretaries of the state of Paraguay.
The role of SET is to achieve an effective, efficient and transparent tax administration oriented to the taxpayer. It works with the fulfillment of the role of the state and supports the development of the country.