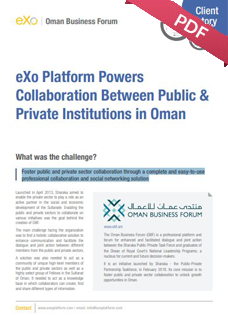 Oman Business Forum
The Oman Business Forum (OBF) is a professional platform and forum for enhanced and facilitated dialogue and joint action between the Sharaka Public-Private Task Force and graduates of the Diwan of Royal Court's National Leadership Programs; a nucleus for current and future decision-makers.
It is an initiative launched by Sharaka – the Public-Private
Partnership Taskforce, in February 2018. Its core mission is to foster public and private sector collaboration to unlock growth opportunities in Oman.