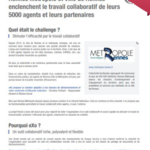 Rennes Métropole and City unleash
Since 2010, the City of Rennes and the metropolitan community have combined their resources to pursue a large variety of initiatives. The intention is to optimize public services within theregion. Hence, over 5,000 agents dispersed among 60 different locations (offices, child care, retirement homes, etc.) work together daily.
Moreover, the authority has many partnerships with local associations and businesses.
In this context of resource-sharing and shrinking public funding, agents in the Rennes metropolitan area need to be more efficient in their collaborations than ever before.
eXo offers the right solution for our needs to decompartmentalize and our search for more collective efficiency. – Christine Truffault, Intranet and Enterprise Social Network Manager