(lire cet article en français)
After months of hard work, we are very proud to announce that eXo Platform 4.0 Community Edition is available in beta.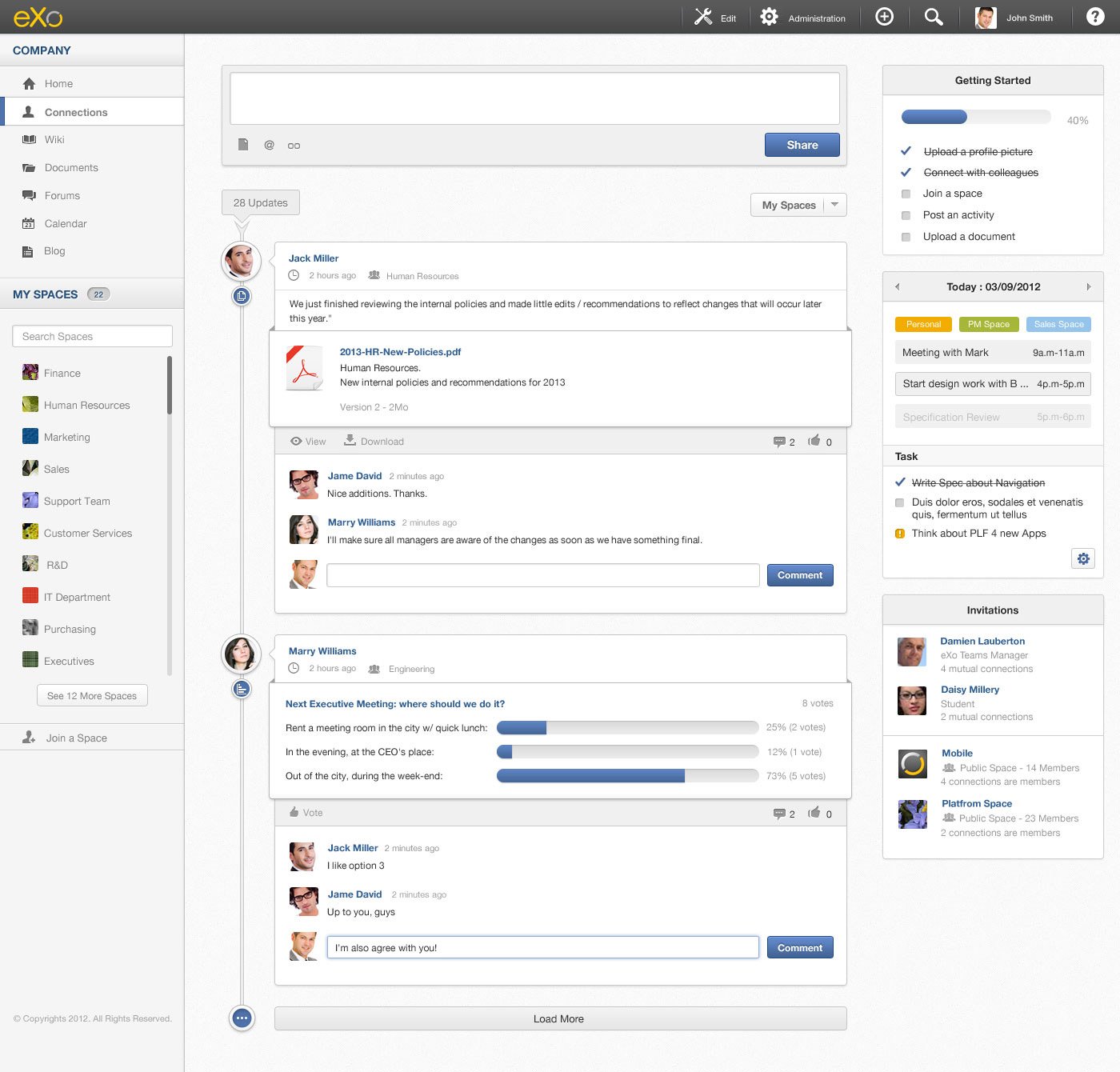 The first big change in this version should particularly please our developers in the community because eXo Platform 4.0 adopts LGPL license! This opens new opportunities for the eXo ecosystem and in particular for the eXo Add-ons initiative.
We've been working hard to make it a first-class enterprise social collaboration platform. Those familiar with eXo Platform know that for a long time it's been an extremely flexible and customizable enterprise software for portal, document management, web content management collaboration, knowledge and social networking.
In this new version, we've built on these strengths to provide an out-of-the-box social intranet solution. Everything is done so that you and your colleagues can get started quickly.
Indeed, a major line of work has been the user experience. eXo Platform 4.0 comes with a brand new look and feel that is the result of meticulous design work. Over 400 screens have been tirelessly inspected, seeking the optimum productivity and user satisfaction.
We hope you will love it as much as we've loved building it!
Among the various novelties you'll find a brand new homepage with enhanced navigation, a redesign of the activity stream, simplification of the document management and a brand new unified search. We will cover these features in detail in the upcoming weeks through a series of blog posts.
Download eXo Platform 4.0 beta now and please give us feedback either by filing a jira or by posting in the forums. Don't wait! Things will move very fast now as we intend to release the GA in May.
Here are the useful links :

The post in French / L'article en français :
eXo Platform 4.0 CE beta est disponible sous licence LGPL !
Après des mois de dur labeur, c'est avec une grande joie que je vous annonce que eXo Platform 4.0 est désormais disponible en beta dans son édition communautaire.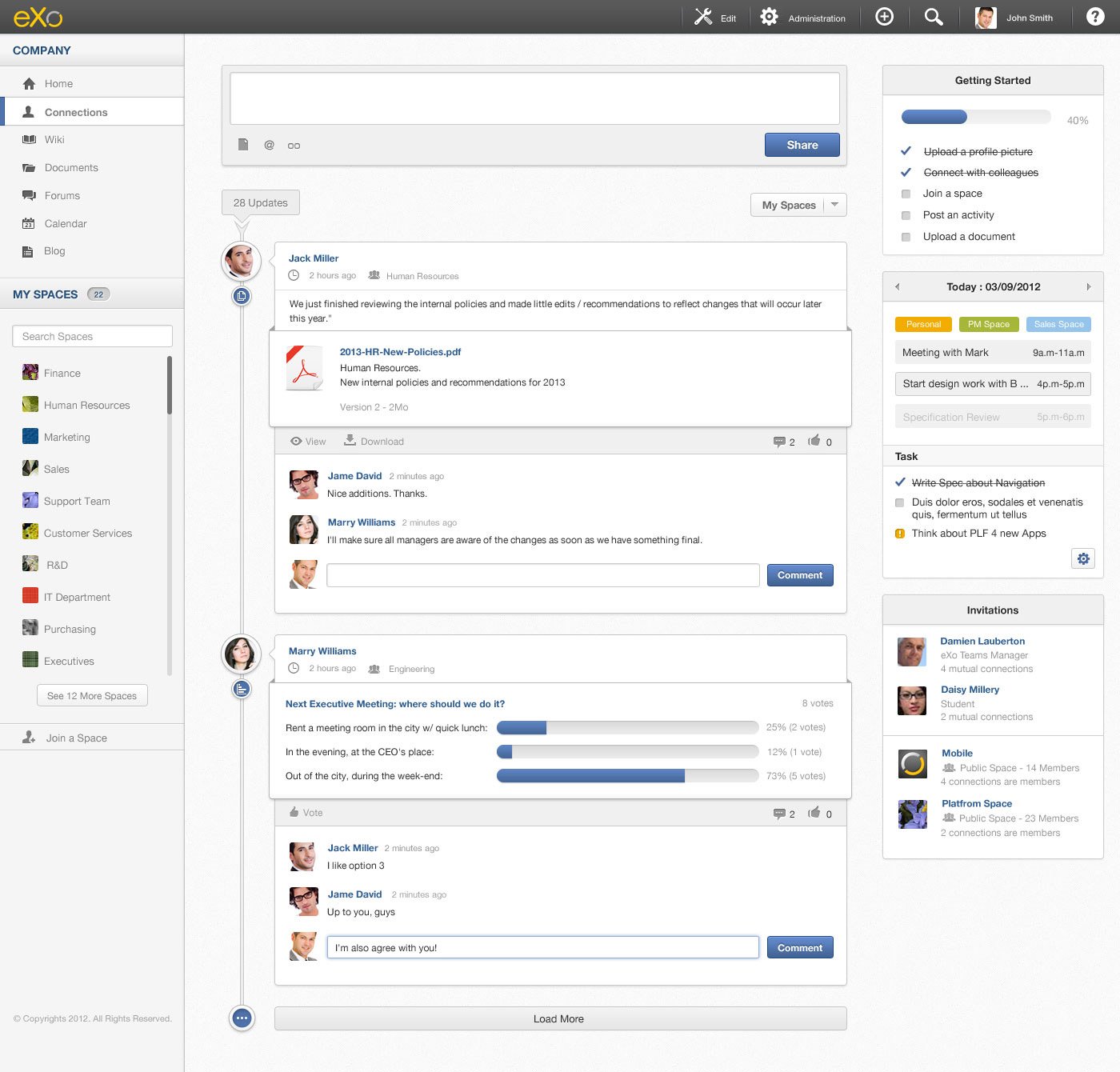 La première grande nouveauté de cette version devrait particulièrement plaire aux développeurs de la communauté puisque eXo Platform 4.0 adopte désormais la license LGPL ! Cela ouvre la voie à de nouvelles opportunités pour l'écosysteme eXo et en particulier pour les eXo Add-ons.
Nous avons travaillé dur pour en faire une plateforme de collaboration sociale de premier-plan.
Ceux qui nous connaissent savent que eXo Platform est depuis longtemps un logiciel d'entreprise extrêmement flexible, adaptable pour les problématiques de portail, gestion documentaire, gestion de contenu, collaboration, gestion de la connaissance et de réseau social.
Dans cette nouvelle mouture nous nous sommes appuyés sur nos points forts pour fournir une solution d'intranet social prête à l'emploi. Tout est mis en oeuvre pour que vous et vos collaborateurs puissiez commencer rapidement à travailler.
En effet, l'axe majeur de travail de cette version a été l'expérience utilisateur. eXo Platform 4.0 arrive avec un tout nouveau thème graphique et une ergonomie repensée qui est le fruit d'un travail minutieux de design d'interaction. Plus de 400 écrans ont été inlassablement inspectés à la recherche de la productivité et de la satisfaction utilisateur maximale. Nous espérons que vous l'aimerez autant que nous avons aimé la concevoir.
Parmi les nouveautés figurent aussi une toute nouvelle page d'accueil avec une navigation plus claire, une refonte des flux d'activités, une gestion de fichiers simplifiée et une toute nouvelle fonctionnalité de recherche. Nous couvrirons toutes ces fonctionnalités en détail dans une série de blog posts au cours des semaines à venir.
Téléchargez eXo Platform 4.0 beta dès à présent et surtout faites nous des retours soit directement dans JIRA ou en postant un message sur nos forums. N'attendez pas, les choses vont aller très vite désormais car nous espérons délivrer la version finale en mai.
Voici les liens utiles :