Amazon is Ready to Eat and Has Taken a Seat in the UK's Food Market!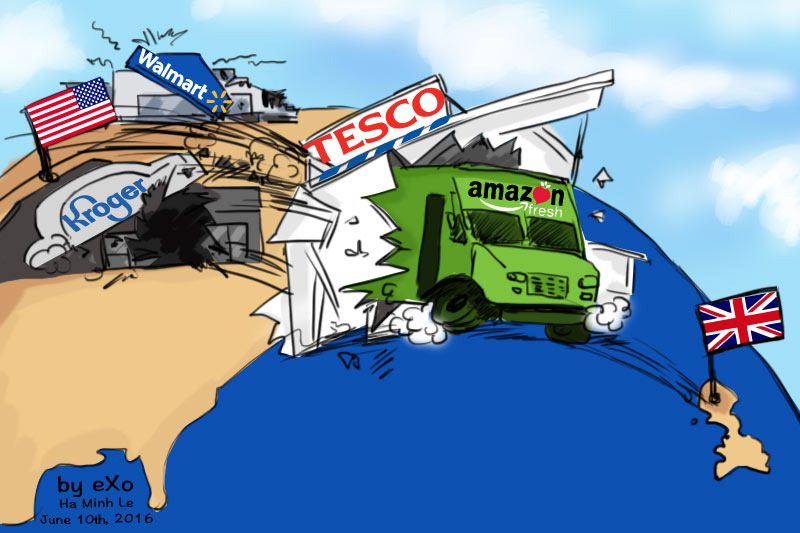 AmazonFresh, the fresh, frozen and grocery products delivery service of Amazon, rolls (Royce?) in the very competitive British market! Launched in London, it brings to its Prime subscribers quite an unbeatable deal of 130 000 products for less than £7 a month!

Any road, AmazonFresh is settling in the United Kindgom. And what a bummer for the large British distributors and retailers!
Needless to say, with such a delivery service, the supermarkets will be the first to suffer. The vast majority of products will be national brands offered at low prices, just to compete fiercely with Asda, Tesco and so on.
Also, AmazonFresh is launching a delivery service for about fifty independent distributors (bakeries, wholesale and retail suppliers etc.).
The bar in grocery retailing is exceptionally high. The supermarkets and grocers are amongst the very best retailers in the world. We believe that the key to the long-term success of AmazonFresh is to bring together the low prices, vast selection, fast delivery options and customer experience that Amazon customers know and love, said Ajay Kavan, AmazonFresh VP.
For starters, AmazonFresh will be launched in 69 districts across the mighty capital, mainly in eastern and central London. This delivery service is offered to Amazon Prime subscribers and – the icing on the cake – they will only have to pay £6.99 a month to enjoy unlimited use of AmazonFresh, 7/7 from 7am to 11pm. Peanuts… Especially when you know that it's the only online retailer that makes you pay a subscription to access its services!
It must've been a hard nut to crack for UK's major distribution players. After all, Amazon promises its customers the cream of the crop…
To be continued.
Stay tuned for more fun cartoons!
Follow eXo Platform's board Cartoon of the Week on Pinterest.