From Berlin and Madrid with love: eXo Mobile 2.4.1 is out in German and Spanish!
As eXo's community is growing bigger and bigger, many people contribute translations on our Crowdin platform. The eXo Tribe is active in almost 50 languages, 15 of them are now supported in Platform 4.0.5. It's time for our mobile apps to catch up. Today we are announcing that the latest version, eXo Mobile 2.4.1, comes with 2 new languages: German and Spanish.
Heute kündigen wir an, dass die neueste Version, eXo Mobile 2.4.1, mit zwei neuen Sprachen ausgestattet ist: Deutsch und Spanisch. Dies ermöglicht es Unternehmen für kundenspezifische Softwareentwicklung, eXo Mobile in einer breiteren Zielgruppe einzusetzen.
Let's get started
Nothing's simpler than activating them! Just open the Settings and select the language of your choice.
The app is immediately translated once you select a language: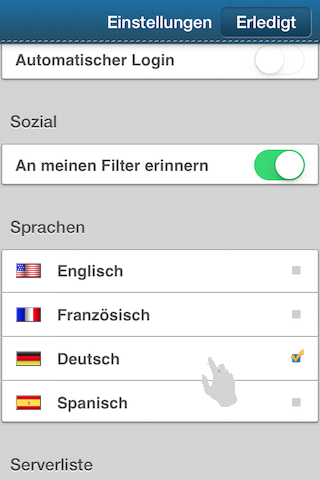 Browse around to see how the app looks in a different language: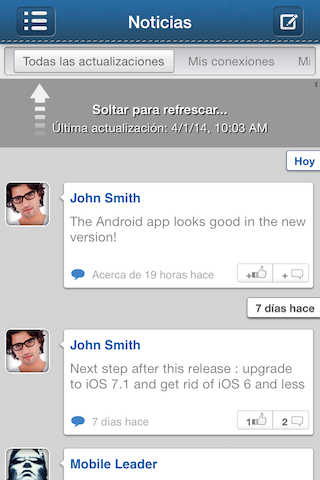 Now that eXo Mobile 2.4.1 is available in 4 languages, let's continue! Our next language, Brazilian Portuguese, is already on its way and many others are awaiting your recommendation and your vote in Crowdin and eXo Community.
Wait, there's more!
eXo Mobile 2.4.1 comes with dozens of bug-fixes and improvements, such as:
Better ordering of the activities in the News section
Enhanced compatibility with iOS7
Improved image sampling in Android (registration and sign-in required)
Application crashes removed
Scrollable filter tabs bar
eXo Mobile 2.4 is available today in the Apple App Store and the Google Play store.
Gracias, Danke!
Join the eXo tribe by registering for the community and access tutorials, support, and downloads!
Make the most out of eXo Platform 4
Register to the next webinar and get a complete overview of what you can do with eXo Platform 4. Reserve your seat now!