Cartoon of the Week – Beware, Your Boss is Watching You!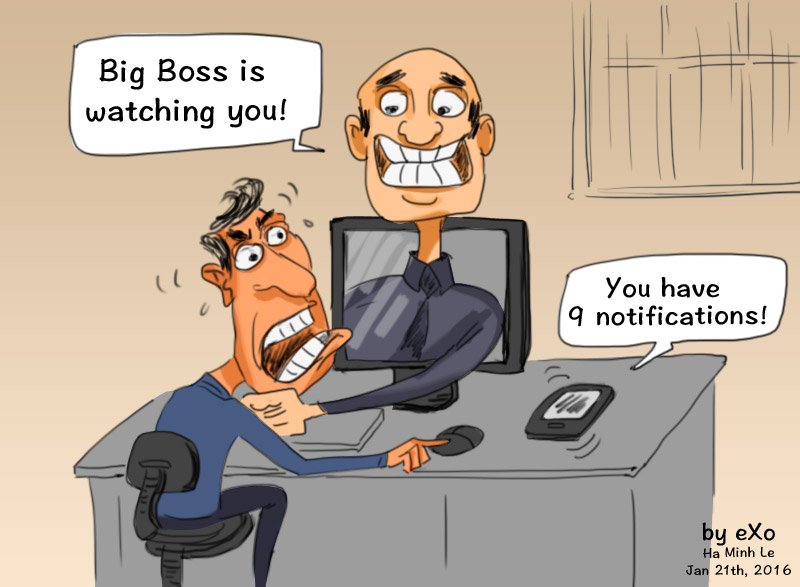 It's 2016, and you're probably truly a part of the twenty-first century. You're on your smartphone; you're on Facebook, Twitter, LinkedIn, Instagram, WhatsApp—you name it! You're on all of them or at least one of them.
You're online ALL THE TIME and everywhere. Especially when you're at work, chatting with your friends, sharing gifs, buying movie tickets, bashing your boss, and sometimes working.

After all, who really shuts off their phones or logs out from their myriad of social apps? It's even hard to do, right? No more notifications; no more comments or likes on your latest selfie or that "new agey" quote you shared last night; no more "Young, Wild & Free" status updates.
We feel your pain. We really do.
First of all, you are probably at least 28 years old, and you probably live in a city, although you dream of owning a wooden shed hung on a tree in the Amazonian forest, talking to monkeys, eating plants and high-protein insects. The wildest thing you've ever done is somewhere between missing a day of work and missing your train. And yes, you're free. You're free to breathe, free to eat, and free to sleep. But even so…
Remember that conversation you had on Facebook with your BFF? You know, about how your boss looks like a donkey and spits when he talks to you? Or that time when you chatted online with your fiancée for two hours about where you were going to spend your next vacation?
Well, it appears that your boss can legally read those conversations, and he can fire you based on their content, sparing you the trouble of planning that next vacation because you'll be looking for a new job instead. Yikes!
A ruling from the European Court of Human Rights came out this year granting employers the right to monitor and control their staff's private or professional online communications.
So if you're goofing around on Facebook or WhatsApp, you better start doing it from your own smartphone and avoid using the company's Wi-Fi.
On the other hand, you could opt for the easier solution of actually spending your working hours working!
Stay tuned for more fun cartoons!
Follow eXo Platform's board Cartoon of the Week on Pinterest.