Cartoon of the Week – "42," En Route to the Silicon Valley!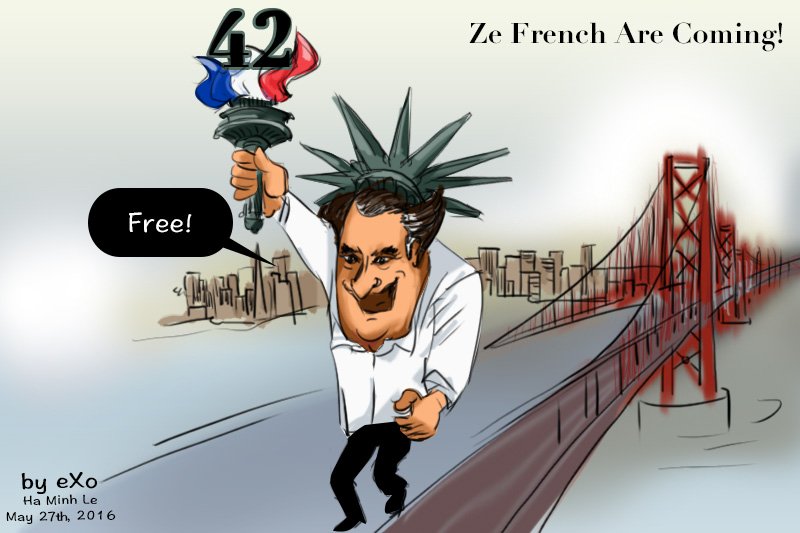 Xavier Niel, the French business man, founder of Free, an innovative telecommunications and Internet company, barges the Silicon Valley…and he's not bringing croissants!

This billionaire truly is a visionnaire. In Paris in 2013, he launched his 42 school, a revolutionary top-range computing school, free and open to all. And it is the "free" part that totally blew away the Anglo-Saxons!
42 refers to the book The Hitchhiker's Guide to the Galaxy by Douglas Adams, and that number is, supposedly, the answer to the ultimate question of life, the universe, and everything.
Well, about 10 days ago, a release announced that Xavier Niel is about to open another "42" in Silicon Valley, investing $100m in order to make many young people's dreams come true without their being pushed into a lifelong debt.
The school will use top-of-the-line equipment, including the latest iMac, and have a dormitory with 300 beds. By the way, "42" functions without teachers. It intends to make students collaborate and communicate together!
Whoever wants to join this school of the future can join without giving it a penny.
Candidates have to be motivated, ambitious, qualified, and between 18 and 30 years of age.
Xavier Niel, who is very respected among American tech entrepreneurs, gives us quite a lesson on philanthropy here.
Is the American Dream becoming French? After all, the Statue of Liberty (Enlightening the World) was a gift from the people of France to the United States…
Stay tuned for more fun cartoons!
Follow eXo Platform's board Cartoon of the Week on Pinterest.