Cartoon of the Week – Happy Thanksgiving!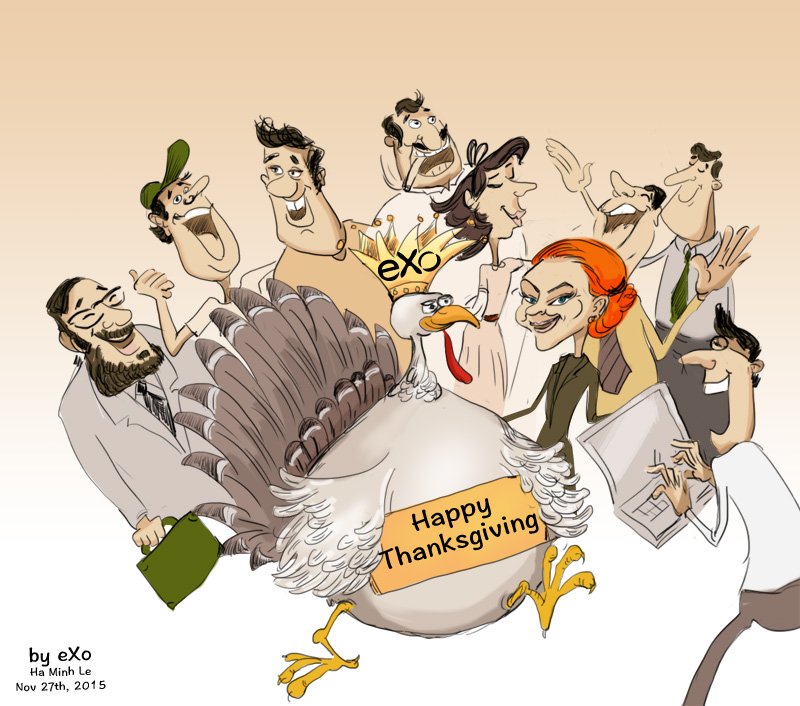 First of all, and on behalf of the eXo teams, we want to wish you all a very happy Thanksgiving.

On this occasion, we'd like to thank our clients for their ongoing trust and support. You are major players in and contributors to our success.
We'd like to thank our partners for their sustained collaboration and backup. You are the ambassadors of our product and our company. You are our voice and our image in many countries and regions around the world.
We'd like to thank our Tribe for being an active and engaged community. Thank you for helping us to test and better our beta versions, and for your precious recommendations on our features. Keep it up!
To our shareholders, thank you for your support, which has lasted for ten years now. The best is yet to come!
And last, but not least, we'd like to thank our employees for their hard work, for being committed to the company, and for easing and improving our clients' experience.
Just like Thanksgiving dinner tables, where we each bring our own culture and traditions, each and everyone of you is bringing something more to eXo. And what everyone brings, we will all end up sharing.
And just to be fair to the turkeys, we express our heartfelt thanks to them for they make our Thanksgiving feasts what they are! Be grateful folks!
From our family to yours,
Happy Thanksgiving!
Explore more eXo Cartoons on Pinterest:
Follow eXo Platform's board Cartoon of the Week on Pinterest.