Cartoon of the Week – Mark Zuckerberg and the Heroic Generosity to Himself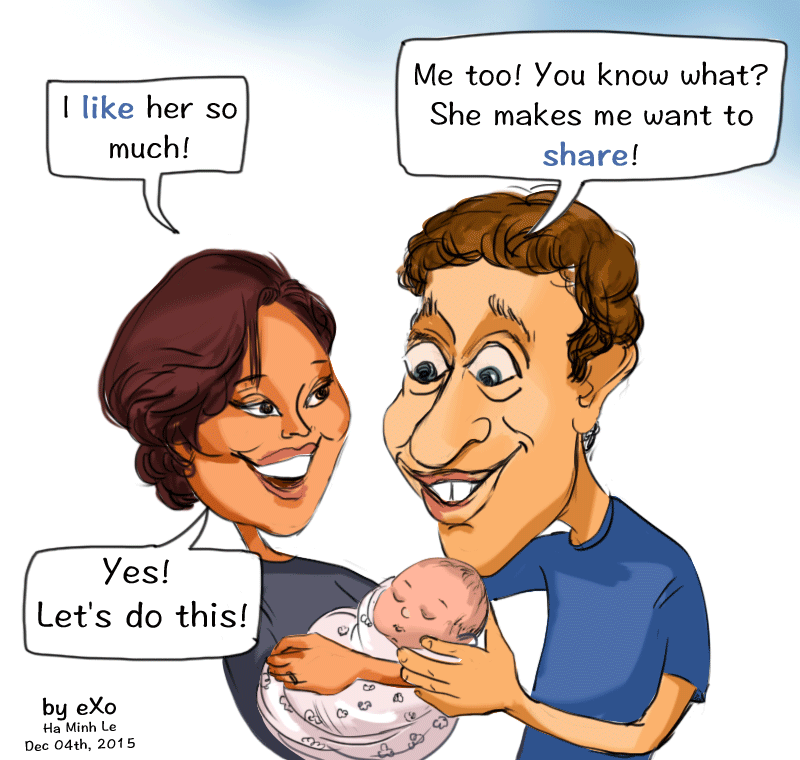 Mark Zuckerberg, the founding father of Facebook, and his wife, Priscilla Chan-Zuckerberg, have become the proud parents of a daughter. But that's not all. The birth of their daughter has made them suddenly very generous.

For many, having a child and becoming a parent really changes their lives. It brings about mixed feelings: joy, fear, power, strength, and boundless love.
Well, for the Zuckerbergs, we can add "a deep sense of altruism" and "an extraordinary generosity", as they welcomed their daughter to the world by giving away 99 percent of their Facebook shares, meaning no less than $45 billion, to their new foundation, the "Chan-Zuckerberg Initiative".
A gift to make the world a better place.
"99 percent of their Facebook shares" really stuck in my mind. Ninety-nine sounds just perfect. So perfect, for that matter, that we have to wonder, "Why 99 percent? Why not 98 percent?"
It's actually not that complicated to understand. The legal structure of Mr. and Mrs. Zuckerberg's foundation, the Chan-Zuckerberg Initiative, causes them to benefit from a highly favourable tax advantage.
Let's say that you had $45 billion in stock shares (just for the sake of argument!) and that, suddenly, you wanted to donate those shares to a foundation described under article 501 of the American Civil Code; well, all types of income brought in from those stock shares would be exempted from taxation.
Of course, that's completely legal. That is called "charity". And charity is full of math!
Some say that Zuckerberg's gift, which looks more like a new business-plan, is about "philanthropy" rather than "charity". Either way, when did "not paying taxes" become a part of "making the world a better place"?
Stay tuned!
Explore more eXo Cartoons on Pinterest:
Follow eXo Platform's board Cartoon of the Week on Pinterest.