Cartoon of the Week – YouTube turns Red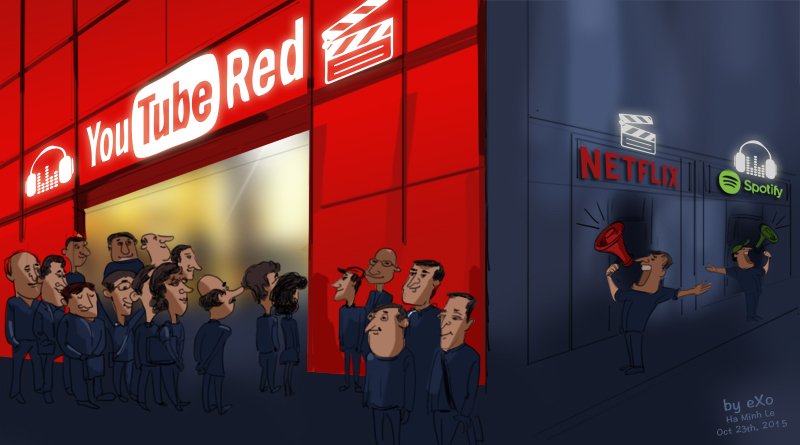 YouTube Red opens shop right next to Spotify and Netflix!

When Google acquired YouTube, it implemented a huge advertising system for contextual video … which sounds like a LOT of money.
We can all agree that YouTube is, today, the world's biggest and most influential video platform. However, being first doesn't mean being profitable.
With YouTube turning Red, monetization will double. And that is the masterstroke of the entire operation.
In the classical YouTube version, advertisers have to pay to get their ads broadcast.
In the YouTube Red version, users now pay not to see the ads the advertisers are paying for in the classical YouTube version. Either way, money's coming in.
Moreover, with extensive experience in the field, first from the classical YouTube platform, then enriched by YouTube Music Key, YouTube Red is a true threat to Spotify and Netflix.
We perceive that Gootube is moving towards a typical network strategy. The purpose could be to fund independent content production. Yes. Just like Netflix.
Besides, YouTube Red really is competitive. And to think, Netflix wants to increase its prices…
Of course, it should be noted that those who don't want to subscribe to YouTube Red will still have access to full-of-ads YouTube, as we all know it. For now…
Explore more eXo Cartoons on Pinterest:
Follow eXo Platform's board Cartoon of the Week on Pinterest.