Create and manage your online catalog with this great eXo Marketplace add-on

You may have already browsed, used, contributed to, or simply heard about our Add-ons Center on eXo Community. It's a one-stop location where you can find great enhancements to eXo like connectors, new applications, and templates.
You already know that extensibility and customization are in our DNA. Add-ons are the perfect example. Want to add powerful extensions to your platform without reinventing the wheel? Looking for inspiration from other users and applications in the eXo community? Want to contribute your own useful features? The eXo Add-Ons Center is for you.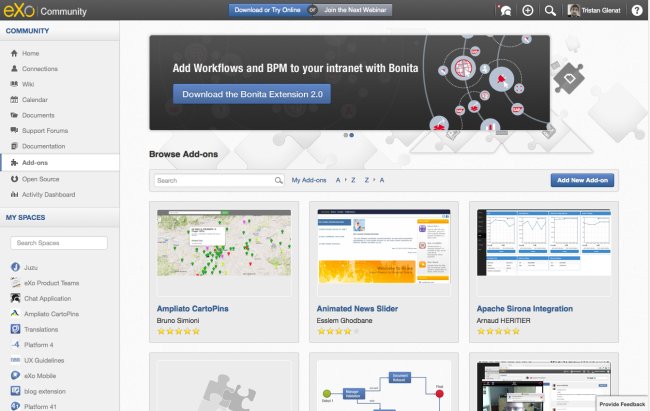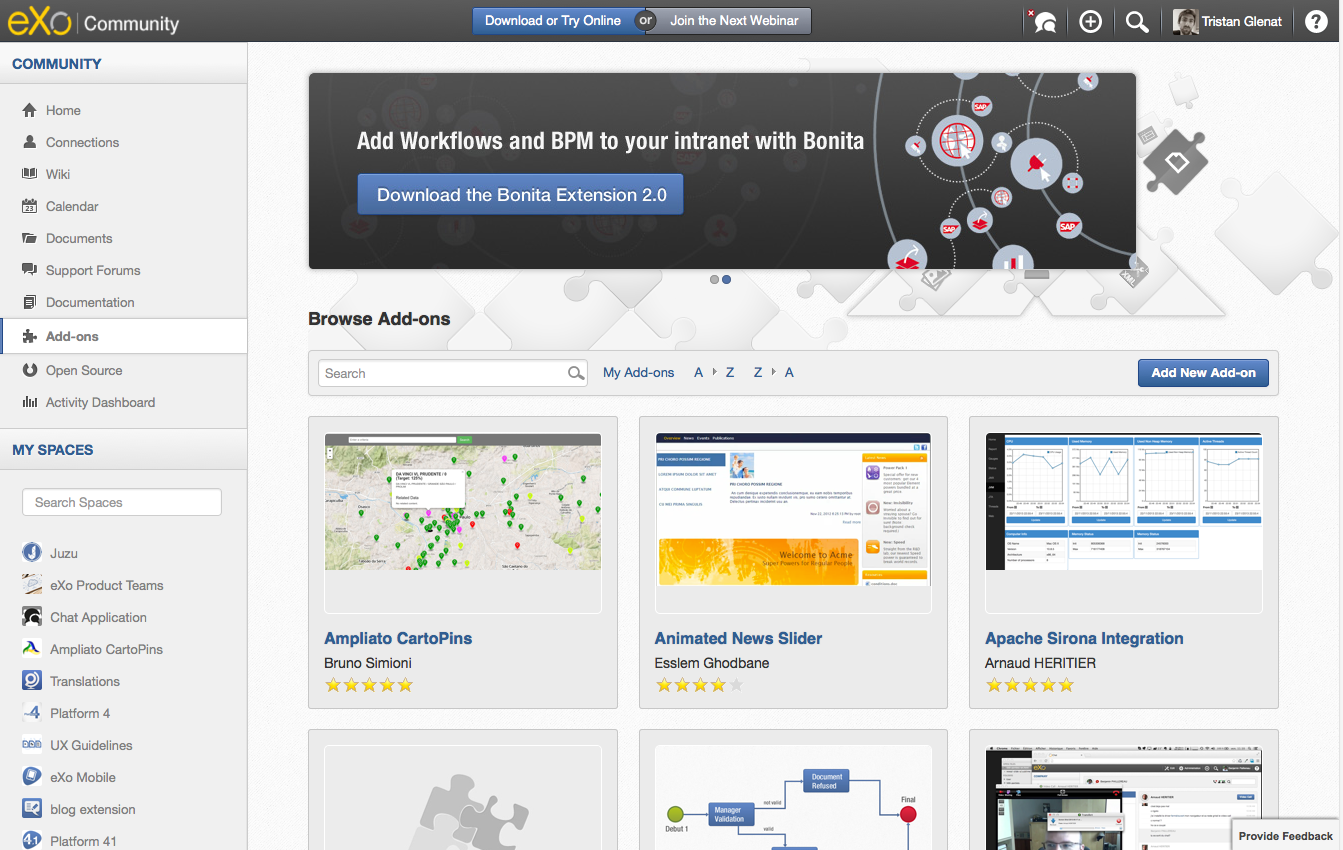 Following the same philosophy, we thought that if it is useful to the community, it could be useful for your projects! So we made this "Add-ons Center" an add-on itself, and named it eXo Marketplace Extension.
After a quick installation, you will be able to offer a real marketplace experience into your eXo instance. Thanks to the eXo Add-ons Manager, one single command line is enough to download the extension and deploy it:
addon install exo-marketplace-extension
Here is what you can do with this first version:
Register new items (attach images and rich content description)
Browse or search for a specific item
Rate and comment on items
Send review email notification to administrators
Publish social activities when a new add-on is registered
Of course, the eXo Marketplace extension is tailored to present software items. But it can be easily adapted to fit other needs as well!
Anything that can be represented in an online catalog will work: consumer goods, books, photos, stories, projects, ideas, services, etc. … All you need to do is to download this addon and modify it for your own object model.
By the way, we are already planning to use this add-on to list our Business Case Studies on eXo Community. Wondering how? Don't worry—it's easy, and we will publish a quick tutorial soon.
We also already have plans to improve this new add-on. In the future we'd like to add integration features, including a payment gateway, a shopping cart, and customer reviews. We think this could be a step toward a complete e-commerce add-on solution. We hope you think so, too, and are looking forward to hearing your feedback, questions, and ideas in the Marketplace extension space on eXo Community.
Resources :
Join the eXo tribe by registering for the community and get updates, tutorials, support, and access to the Platform and add-on downloads!
Make the most out of eXo Platform 4
Register to the next webinar and get a complete overview of what you can do with eXo Platform 4. Reserve your seat now!