eXo All Around the Web: How to Follow Us

We are big fans of social networks and of sharing websites here at eXo. This is because 1) social networking and knowledge sharing are strongly incorporated into our DNA as Enterprise Social Platform providers, and 2) because of our open-source community with whom we love to share news, how-to articles, and all the cool stuff our users can do with our platform.
Following the two big news stories of Yahoo! acquiring Tumblr and Flickr unveiling a brand new interface, we felt this was a good time to guide you through all the services we use to expose our news and designs.
eXo Platform 4 Designs Around the Web
We were very excited with the new Flickr interface today, as it gave us a new way to quickly organize and show our eXo Platform 4 designs. On one single page, you can discover all the aspects of the Platform as well as all the work that has been performed through a UI point of view. On our side, and after uploading all the major screens we have, it's also the kind of moment when you truly realize all the amazing work that has been achieved over the past few months.
Check eXo Platform on Flickr now.
In the same category, you can follow eXo on Pinterest. We felt Pinterest was a bit more socially oriented than Flickr, which is a more professionally oriented tool. This is why you'll also find some fun pics on Pinterest.
Both tools are quite similar, and we'd be delighted if you shared your insights with us—just put them in the comments section concerning which tool you use in different situations.
eXo Platform 4 for the True Geeks
While we feel it's important to share our news on the major social networks, we also feel it's important to share our more tech-savvy news on the major developer communities. We're very motivated from having seen so much interest from developers and experts around the world.
We often post tech news, third-party integration articles, or development best practices on DZone, InfoQ, TheServerSide.com, Java.com, and HackerNews.
eXo Platform 4 in Action
You can do a great deal with the Platform and even more with all the eXo add-ons and the third-party integrations the community is working on. To take full advantage of specific features and developments, take a look at a video or presentation—this is really the best way to learn everything you need to know.
You can watch eXo Platform in action on YouTube and Vimeo. Alternatively, learn more about eXo with some quick presentations on SlideShare.
eXo Platform 4 for Business
We are very focused and dedicated to our customers, and we publish all our business news on LinkedIn and Viadeo. Follow us there if you have specific questions or just want to track our business news.
All eXo Platform 4 News
We are extremely proud of the strong community of followers we have on both Twitter and Facebook with, respectively, 5,741 followers and 50,640 likes. Speaking of Facebook, this is where we have the most fun engaging with our community in a more casual way. Who said we can't mix business with pleasure?
Join the fun on Facebook and follow us on Twitter.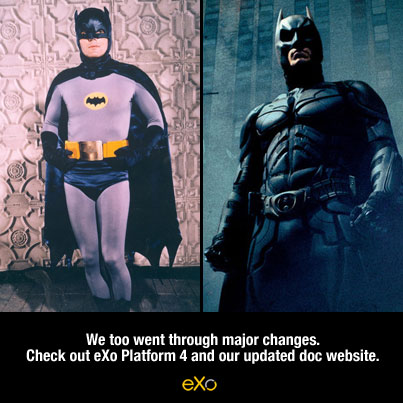 Additionally, we also have a presence on Google+, and we are now working on creating some discussion groups about the Platform.
eXo Community
Our Community website hosts our forums and up-to-date documentation. By registering on our community website, you'll be able to find all our experts ready to help you with your platform as well as a vast array of resources to help you get started or dive deep into the eXo Platform.
Please note that we are currently working on our new community website, which will very soon run on eXo Platform 4, and we'll offer our community all the social and sharing capabilities of our new product. I truly cannot wait to have it released; eXo Platform 4 is so much more fun to use.
Finally, guess where we are the most socially active? On our own intranet running our very own eXo Platform 4! Our social networking and knowledge-sharing capabilities are perfect for disseminating news I know those around me will be interested in. Our intranet is a treasure trove of information—from business articles to the very next exciting features my colleagues are working on. It's the first place I check to find content that I then can publish outside our organization for our own community.
Download eXo Platform 4 and see for yourself.
Also, do not hesitate to comment and tell us what social networks you use the most for your professional needs and and how you expect them to help further your business goals.