eXo Cloud Premium Launches – First 6 Months Free!
UPDATE – Friday December 13: Our special Launch Offer giving 6 months free to the first 100 workspaces registered on eXo cloud Premium was so successful that we decided to extend it and give you another 100 coupons for 3 months free. This offer is valid for the next 2 days only. You can get your coupon here: https://www.exoplatform.com/Get-Your-eXo-Cloud-Premium-3-Months-Coupon.html Don't wait as they won't last!
When we first introduced a free cloud version of our breakthrough social enterprise platform in June, we were ecstatic by the overwhelming response we received from thousands of organizations. With today's launch of the premium cloud version we're going even further. The premium version offers new capabilities and services, including tighter integration with eXo Mobile apps. With these new mobile apps, users can create and customize their own social network account directly from their mobile device.
In addition to the full social collaboration platform, premium customers will receive priority email support and 1GB of disk storage for each user seat purchased.
eXo Cloud Premium is available now for an annual subscription of $36 per user – just $3 a month. When setting up your cloud account, the minimum number of users is six. To celebrate today's launch, we're offering the first six months free for the first 100 workspaces registered – click here for your coupon.
eXo goes way beyond proprietary social networks for businesses by delivering an integrated and collaborative experience that includes social networking, document sharing, discussions, wikis, Q&As, polls, agendas, collaborative spaces and content management.
We're bringing the full extensibility of the eXo platform to administrators by giving them full user-management control and unmatched customization to add more pages, deploy more gadgets, define fine-grained access control and build more sites within any eXo Cloud workspace. If you need a refresher about what you can do with eXo Cloud, check out this video.
How can I subscribe?
Subscribe to eXo Cloud Premium in three easy steps:
Step 1
First – if you have not already done so – sign up for a freemium account on http//cloud.exoplatform.com. It only takes 5 minutes. Once you're in, click on the "Upgrade" button.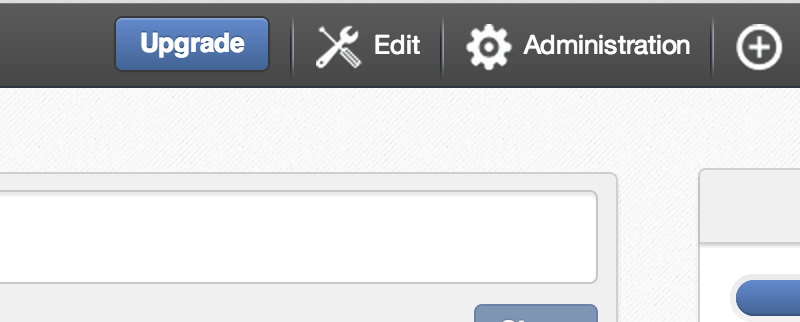 Step 2
On our secure purchase form, select how many user seats you need for your workspace. You can start with as few as six and add more as needed.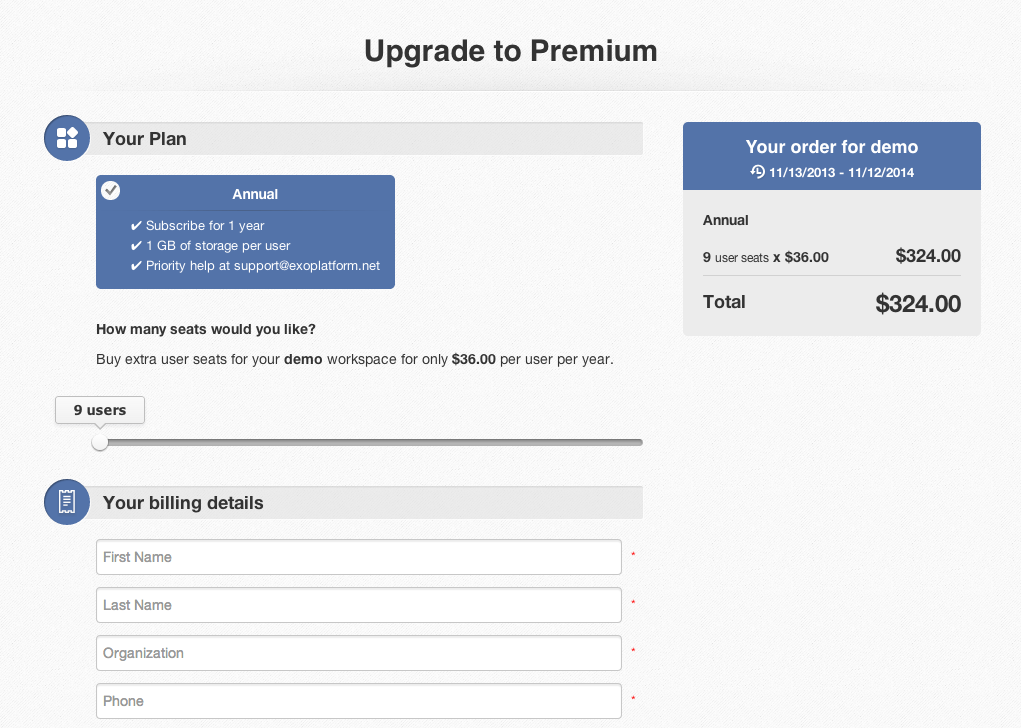 Step 3
Enter your billing and credit card details, then hit "Subscribe" and you're done!
You can check your subscription status at any time from the Administration > Subscription menu.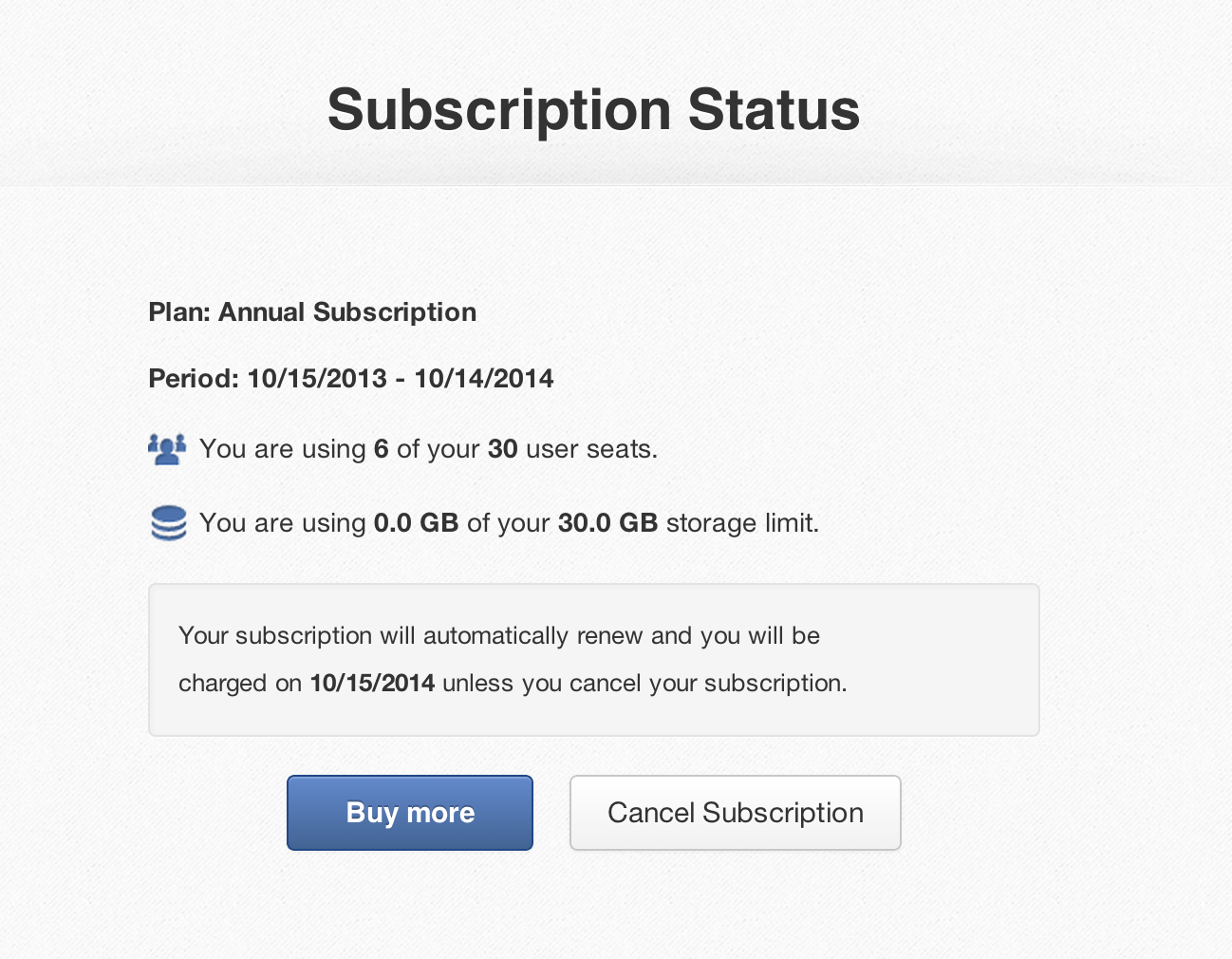 We are at the beginning of the social enterprise and solutions like eXo Cloud Premium are rapidly educating organizations on the enormous impact it can have on collaboration, and productivity."
But don't take our word for it, try eXo Cloud for free and when it has become essential to your employees, hit that upgrade button.
6 Months Free for the First 100 Workspaces
To celebrate today's premium launch we're offering six months free for unlimited users – available to the first 100 workspaces registered. Get the offer here: eXo Cloud Premium FREE