Injecting your portlets: define containers to create new places to add them

We have seen in the previous post that we can easily inject your portlet into predefined places, and we are now going to explain how we can easily add and create new places.

We have placed several ready-to-use containers in the platform, but you can easily add more!
You will find the new Dynamic Container in your Edit Layout Menu. These containers are included in Dynamic Row and Dynamic Column.
When the container is added to your layout, you can configure it by clicking on the edit icon

and entering the name you want.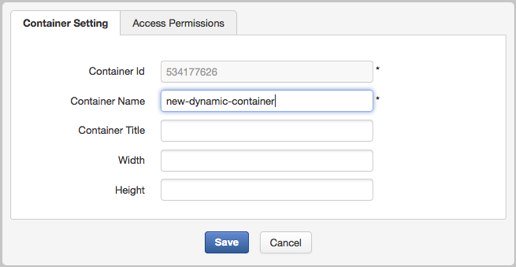 The name then is used in your configuration file, as we have seen in the previous post.
You can easily reuse the configuration example we have packaged in our eXo Samples Repository and update the target name in the file dynamic-container-configuration.xml.
Any questions or feedback? eXo Tribe is waiting for you on the eXo community website!
Join the eXo tribe by registering for the community and get updates, tutorials, support, and access to the Platform and add-on downloads!
Make the most out of eXo Platform 4
Register to the next webinar and get a complete overview of what you can do with eXo Platform 4. Reserve your seat now!