Mobile, Mobile, Mobile! Did I tell you eXo Goes All Mobile?
We are today launching a revamped version of our mobile website. And we feel it's time to introduce you to our mobile capabilities—first, in terms of website rendering for mobile devices and, secondly, in terms of mobile connection to your eXo Platform social and collaborative features through the native iOS and android apps. All in all, eXo Platform is a true and complete mobile platform.
Your Websites for Mobile Devices
Based on eXo Platform 4, the website team developed a new page template dedicated to mobile displays. The information is the same, just crafted differently, in the form of slides. You can use the top button to navigate slides or you can swipe slides with your fingers to navigate through the different parts.
Also note that this template will be available very soon to the community as an eXo Add-on.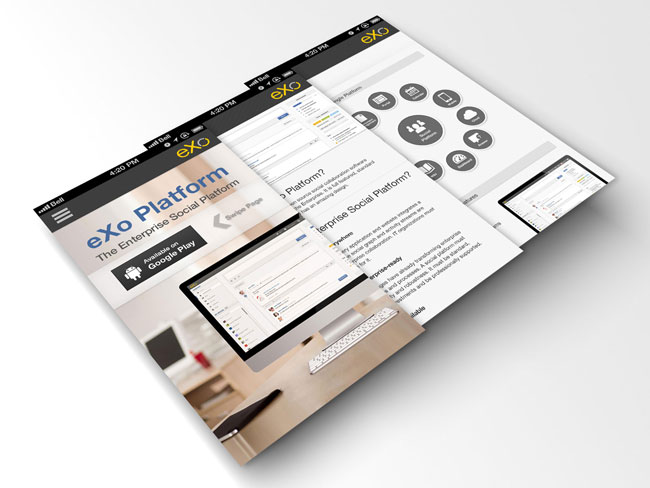 Stay Connected to your Platform
Rendering websites for mobile devices is important as eXo Platform provides complete and out-of-the-box website content management features. But this is just one side of the platform and, as you know, eXo Platform provides much much more than that. It's a full-featured Enterprise Social Platform and we know it's important that you can access your company's intranet wherever you are.
With native iPhone, iPad, and Android apps, you can connect and collaborate on the go. The mobile apps integrate easily and securely with your eXo Platform so you can stay in touch with your colleagues and interact with them, as well as following your dashboards and getting updates from your spaces.