Cartoon of the week – Oracle versus…Everyone!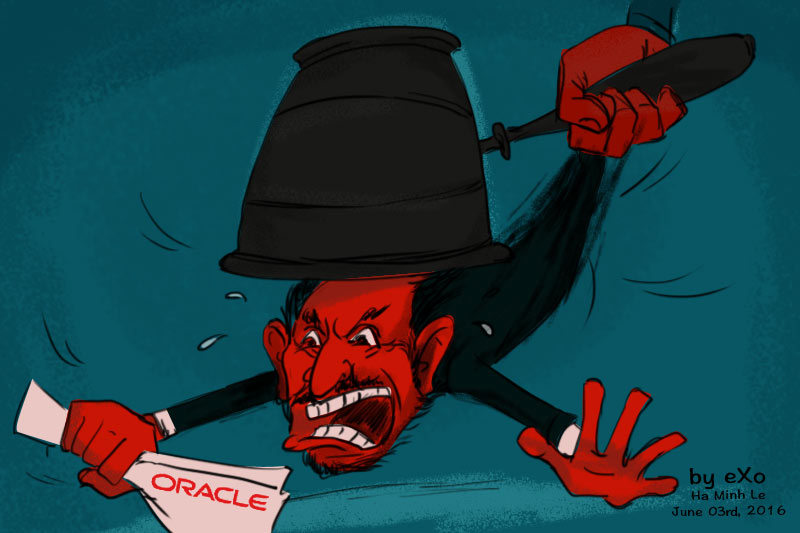 Google, HPE, Microsoft—it's clear that Oracle is not everyone's friend, not even its own employees, who are suing them and being sued in return.

Oracle keeps losing to Google
First, let's talk about the Oracle versus Google case. This litigation goes back to 2010, and it revolves around the Dalvik Virtual Machine, which managed Android's applications until the introduction of ART. In a nutshell, Oracle blamed Google for copying Java's functionality (developed by Sun Microsystems and purchased by Oracle in 2009) and borrowing 37 proprietary APIs.
In 2012, during the first trial, the concept of API intellectual property was rejected. It took an appeal in 2014 for Oracle to go back and swing at Google again. That trial just ended, with Google coming out victorious in the major legal battle.
Still, Oracle is not backing down, and it has promised to appeal that decision and is claiming more than $9.3 billion in damages from Google for borrowing its API Java technologies.
Hewlett Packard Enterprise claimed $3 billion in damages from Oracle
HPE claims to have suffered great harm due to Oracle's decision to not support the Itanium processors. The company is now claiming compensation of $3 billion.
HPE may have changed its name since this case started in 2011, but it has not forgotten its grievances against Oracle, which is returning to court as a defendant and not as a plaintiff.
Oracle was accused of using irregular accounting procedures by a former employee
Oracle is the target of legal proceedings by a former financial manager who claims to have been terminated after complaining about some accounting practices used for the company's cloud activity. Oracle's database specialist spokesperson has denied these allegations.
We will have to wait and see what the outcome of this case is.
It looks like Oracle is becoming comfortable in the halls of justice…
Stay tuned for more fun cartoons!
Follow eXo Platform's board Cartoon of the Week on Pinterest.