Platform 4.3 Feature Scope – A Sneak Peek of What's Coming Next

While for eXo Platform 4.2 we wanted to help you to boost user engagement, eXo Platform 4.3 will help your users to get more work done!
We have planned a release for the very end of the year. So let's see what we have in the oven.

Task Management
Where do we start in letting you do more with eXo? Task management of course! We are working on a brand new task management app that will make it super easy to capture, triage, schedule and work on tasks and projects. Learn more…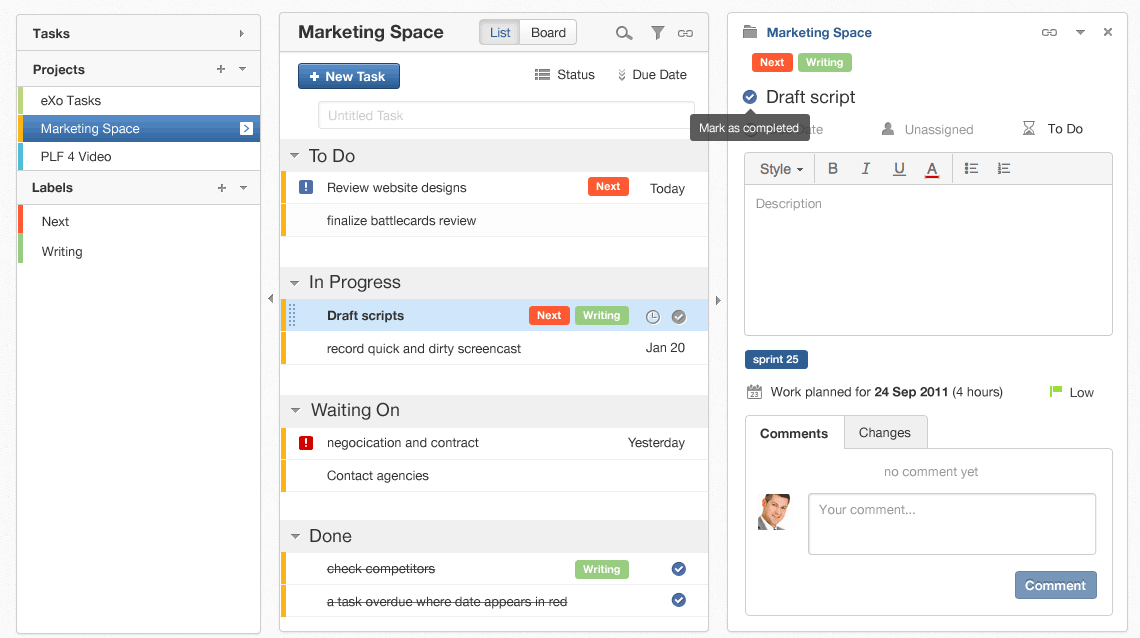 Natively Responsive
Nowadays, we no longer work with a desktop only. We also expect to get stuff done on the go on our tablets and smartphones.
A responsive add-on is already doing a good job enabling mobile web access, but this time we wanted to design the screens specifically with mobile usage in mind. Learn more…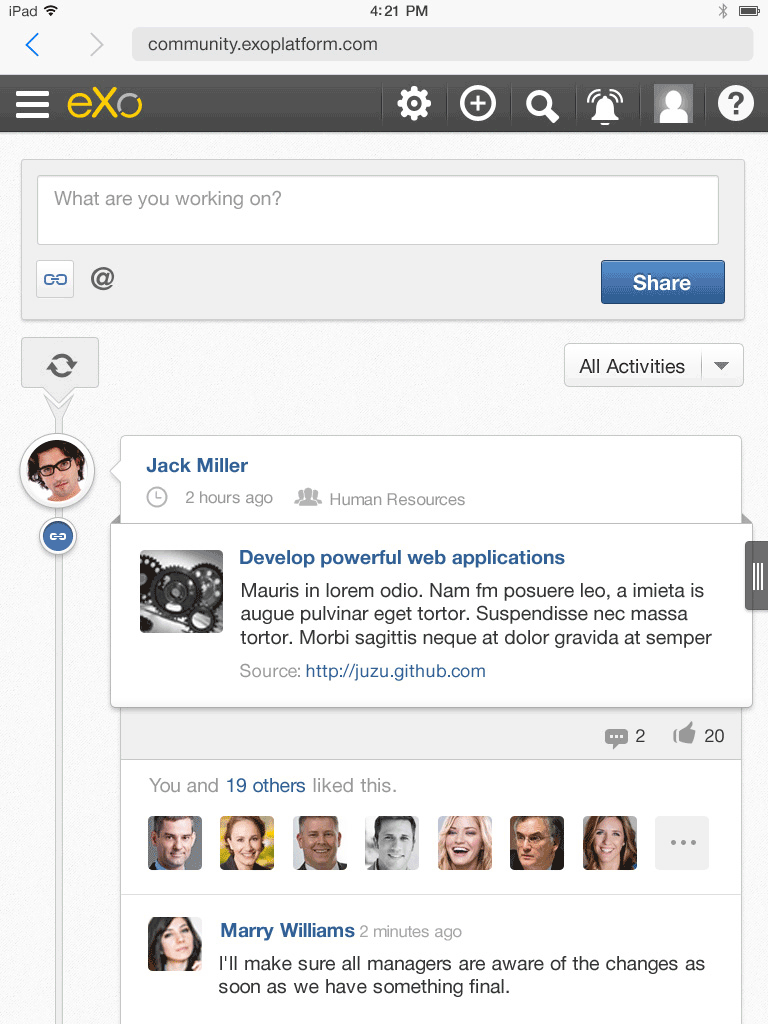 Sharing Documents
Another frequent pain point is sharing a document with others within the Documents app. A typical workflow involves setting the permissions for the right person, then posting an activity at the right place to link to the document.
To make this really straightforward, a new 'Share' action will take care of setting the permissions and posting the activity. Just select your document, click on 'Share', choose the audience, and you're done! Learn more…
Document Versioning
Version after version, we are adding improvements to upgrade to newer, improved usability standards. A frequent source of confusion for users is dealing with versioned documents. It is hard for most people to understand what the 'Check-in' and 'Check-out' actions actually do. So, we will simply get rid of them and make versioning more transparent. New versions will be created automatically when you upload a new version of a document. Learn more…
Authentication with Social Networks
This feature has been on our tribe website for a while now and it is often requested by people implementing an open community scenario. With it, one can connect to an eXo Platform instance using a Facebook, LinkedIn, Twitter or Google Plus account. Authentication will be delegated to the social network and an eXo user account will be created on the fly. Learn more…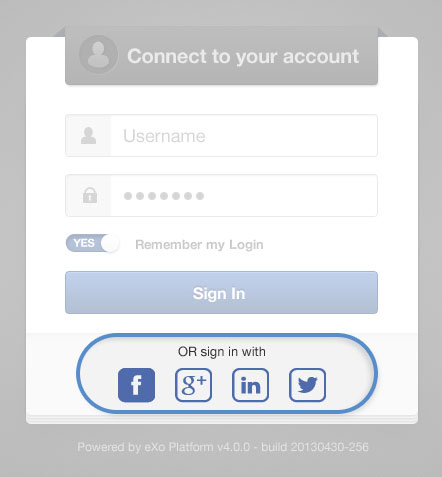 New Site Templates
So you want to leverage the WCM in eXo to build a new website? No worries, we got your back with a brand new pack of modern and responsive website templates. Better, it's coming with other useful building blocks such as video, news, responsive containers and much more! Learn more…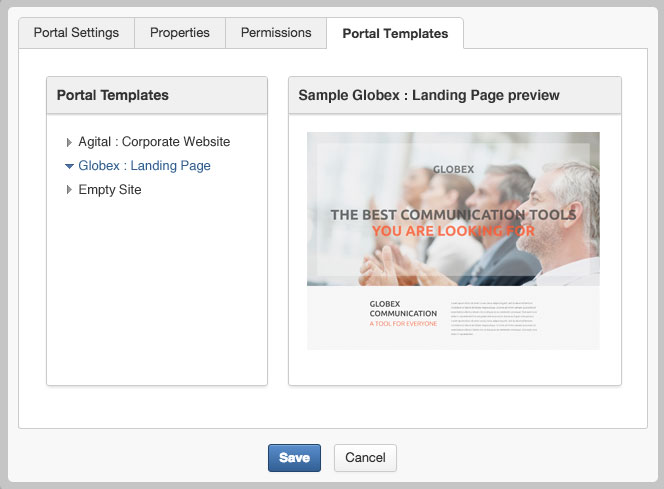 And More…
Disable a User
The community management app will have a 'Disable' switch for user accounts. Disabled users will be prevented from logging in, will no longer be listed as connections and will no longer receive notifications. But their contributions, such as activities, forum posts, etc., will remain accessible. Learn more…
WebRTC for Video Calls
Thanks to WebRTC, users of Google Chrome will no longer need to install a browser plugin to make or receive video calls. Learn more…
Restricted Page Editor
This feature will add finer-grained permissions to control better who can edit the layout of a page. Learn more…
Wildcard Membership
With this improvement, we have aligned the semantics of the wildcard so that permission management feels more natural. Learn more…
Clustering on Tomcat
Clustering is required for high availability. It used to be reserved to JBoss app servers. Now it will work on Tomcat too.
Java 8
Platform 4.3 will finally bring official support for Java 8, which promises improved performance and great new opportunities for developers.
CDI Portlets
With CDI support, developers will find it much easier to build their portlet code by wiring components in a standard manner.
APIs
A new Social REST API and a Java navigation API will be introduced.
Try it now!
That's a lot to put in a single release, but I promise the wait will not be too long. In fact, we already have something for you to try. Download the very first milestone and preview: disable a user, restricted page editor, wildcard membership and CDI portlets. As usual, any feedback is much appreciated.
Watch this blog for more news about our progress. Another way to follow the progress closely is to watch the Roadmap page.
Join the eXo tribe by registering for the community and get updates, tutorials, support, and access to the Platform and add-on downloads!
Make the most out of eXo Platform 4
Register to the next weekly live demo session and get a complete overview of what you can do with eXo Platform 4. Reserve your seat now!