Cartoon of the Week – Salesforce is about to say "Sayonara" to Oracle!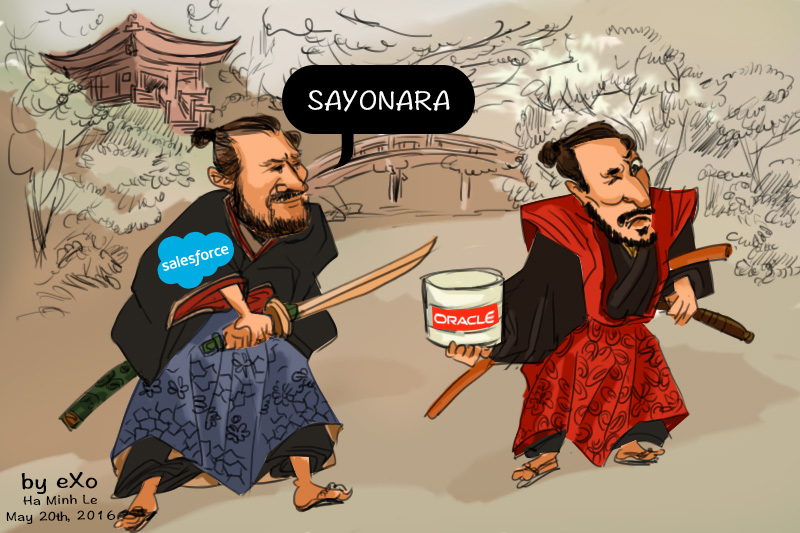 How do we say "Goodbye" in Japanese? Sayonara! And it is also the name chosen by Salesforce for its new project, aiming at changing its applications engine, which today is based on Oracle.

According to Fortune, Oracle might be the database leader but it is also the most expensive, compared to newer products.
Many other internal sources confided to Fortune that, in 2012, Marc Benioff's company recruited Pat Helland, a former Microsoft software architect, to lead the Sayonara project. His efforts to develop a new engine follow rumors, circulating in 2013, announcing a possible migration to PostgreSQL.
Indeed, a change in database would provide Salesforce with a flexible technology that might be used in many data centers. At a time when privacy and data protection concerns in the European Union are forcing American suppliers to store Europeans' personal data locally, a distributed architecture would have a strong business case! Besides, it can easily manage and monitor data, and thus, avoid breakdowns and failures, already suffered by Salesforce for more than a day.
There's also another reason for the database change – the aggressive competition from Oracle against Salesforce in the cloud market. Not to forget the often conflictual relationship between Oracle founder and president, Larry Ellison, and Marc Benioff, his former employee. Indeed, before launching his own company, Marc Benioff was a vice president for Oracle!
Stay tuned for more fun cartoons!
Follow eXo Platform's board Cartoon of the Week on Pinterest.