[Teaser] eXo Knowledge Suite 1.0 (KS), almost ready to launch
eXo KS 1.0 is a set of two applications – a forum and a FAQ one.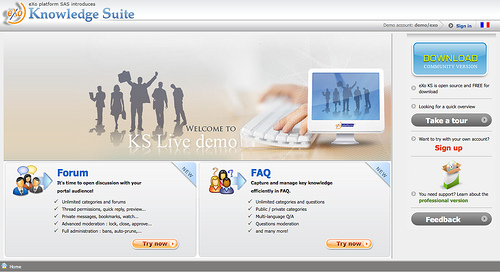 We have been working for more than a year on the forum app and we are quite exited to launch such a feature wise Java forum with:
Unlimited forums
Unlimited categories
Private / Public forums and categories
Hierarchical view (tree) or breadcrumb
Global search with advanced options
Multimedia directory storage
Security and organization
Registration based on portal
Groups / users management based on portal organization
Actions access restriction (view, post, reply)
Access restriction to users / groups
IP filtering / logging
Message formatting (rich editor) : quote, url linking, images
Support of standard and extended BBCode tags and controlled HTML tags
Fast answer
Message preview
Polls
Email notification
RSS notification
Topic subscription capability
Emoticons / Smileys
Message toolbar : quote, edit, user info
User profile
Post counting and administrator-definable ranks for users
Private messages
Signature
State icon (new message in the forum / topic since last visit)
Favorites
User profile link
Online users
Print out view
Topic editing
Mass delete/move/lock/unlock of posts
Topic splitting
Option of auto-pruning of old or unanswered messages on a per-forum basis
General configuration
Forum and category setup
Moderation : a priori / a posteriori
Access (public / private, registered user)
Participation (close forum, set to read only, lock, ?)
Word censoring
Statistics
IP tracking of posts and posters
Messages
View Categories and forums: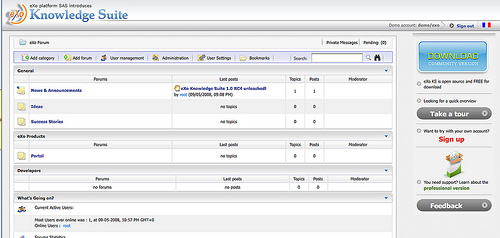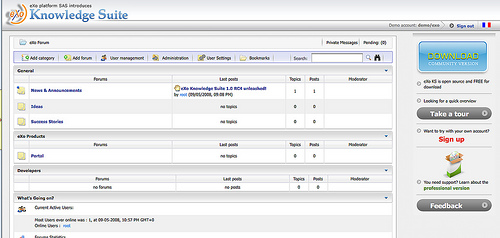 A forum within a category: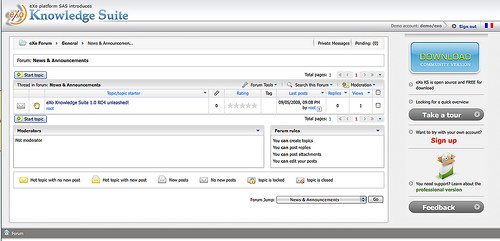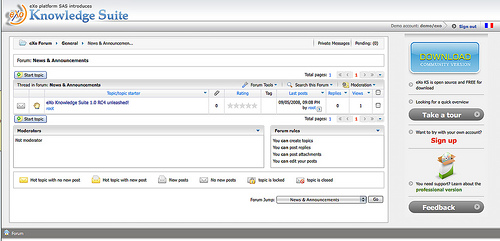 A post: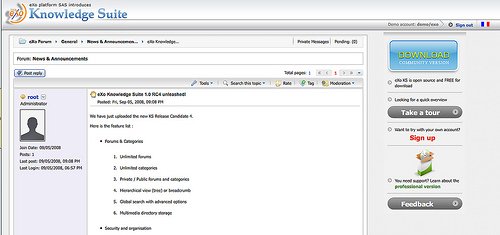 Many administrative possibilities: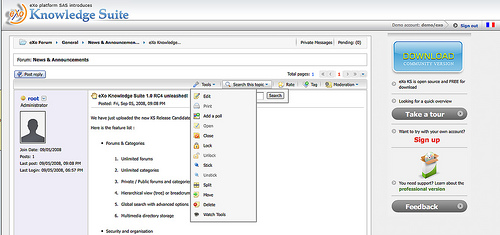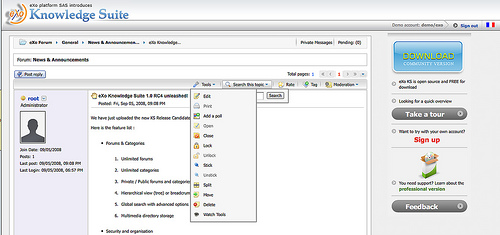 On the technical side and as for all eXo applications, eXo KS is leveraging eXo Portal and stores its data inside eXo JCR a JSR 170 compliant Java Content Repository. Of course those two appllications can be deployed with the other eXo products as part as a full feature Portal or WebOS environment.