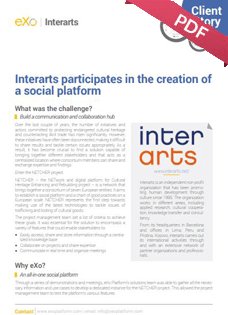 Interarts
Interarts is an independent non-profit organization that has been promoting human development through culture since 1995. The organization works in different areas, including applied research, cultural cooperation, knowledge transfer and consultancy.
From its headquarters in Barcelona and offices in Lima, Peru and Pristina, Kosovo, Interarts carries out its international activities through and with an extensive network of partner organizations and professionals.
Through a series of demonstrations and meetings, eXo Platform's solutions team was able to gather all the necessary information and use cases to develop a dedicated instance for the NETCHER project. This allowed the project
management team to test the platform's various features.
At the end of the evaluation period, eXo was chosen because of its capacity to cover most of the project's requirements. These include social and collaborative features, knowledge management and content management capabilities.