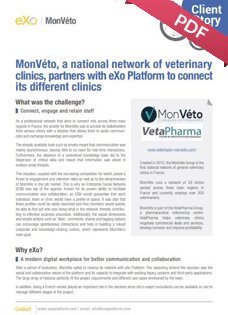 Monvéto
MonVéto runs a network of 39 clinics spread across three main regions in France and currently employs over 200 veterinarians.
MonVéto is part of the VetaPharma Group, a pharmaceutical referencing centre. VetaPharma helps veterinary clinics negotiate commercial deals and services, develop turnover and improve profitability.
After a period of evaluation, MonVéto opted to revamp its network with eXo Platform. The reasoning behind this decision was the social and collaborative nature of the platform and its capacity to integrate with existing legacy systems and third-party applications.
The large array of features perfectly fit the project requirements and different use cases envisioned by the team.