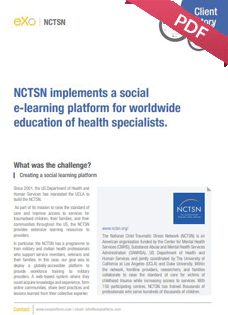 Customer Case Study: NCTSN
The National Child Traumatic Stress Network (NCTSN) is an American organisation funded by the Center for Mental Health Services (CMHS), Substance Abuse and Mental Health Services Administration (SAMHSA), US Department of Health and Human Services and jointly coordinated by The University of California at Los Angeles (UCLA) and Duke University.
Within the network, frontline providers, researchers, and families collaborate to raise the standard of care for victims of childhood trauma while increasing access to services. With 150 participating centres, NCTSN has trained thousands of professionals who serve hundreds of thousands of children.